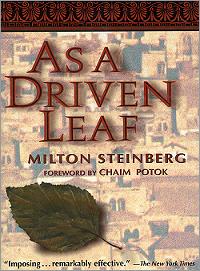 Recommended by the Union of American Hebrew Congregations as one of "Four Significant Hebrew Books."

The age of the Talmud is brought to life in a breathtaking saga. This masterpiece of modern fiction tells the gripping tale of renegade talmudic sage Elisha ben Abuyah's struggle to reconcile his faith with the allure of Hellenistic culture.

Set in Roman Palestine, As a Driven Leaf draws readers into the dramatic era of Rabbinic Judaism. Watch the great Talmudic sages at work in the Sanhedrin, eavesdrop on their arguments about theology and Torah, and agonize with them as they contemplate rebellion against an oppressive Roman rule.

But Steinberg's classic novel also transcends its historical setting with its depiction of a timeless, perennial feature of the Jewish experience: the inevitable conflict between the call of tradition and the glamour of the surrounding culture.

In his illuminating foreword, specially commissioned for this edition, Chaim Potok stresses the contemporary relevance of As a Driven Leaf: "This novel of ideas and passions. . . retains its ability to enter the heart of pious and seeking Jew alike."

Synagogues everywhere are adopting As a Driven Leaf for group study.


Title-at-a-Glance

As a Driven Leaf

Adult

480 pages

5½" x 8½"


Also take a look at....


Leader's Discussion Guide to As a Driven Leaf
As a Driven Leaf is an ideal selection for adult education classes and as recommended reading for congregational lay leadership. This guide provides a framework for group study. Stimulate thoughtful discussion about the central themes, historical period, and theological questions presented in the novel.

Download this Guide.