> Grades 4-7: Basic Judaism

BASIC JUDAISM
For Young People
By Naomi Pasachoff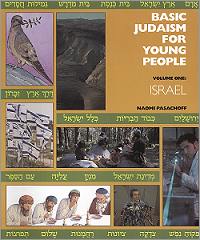 "One of my favorites of all time is the Basic Judaism series."

Anne Stein
Director of Education
Etz Chaim
Lombard, IL


Use concepts to teach history, stories to teach morality, heroes to teach values. The teachers and sages of the past mastered this teaching strategy--and it is as appropriate today as it was in talmudic times.

The Basic Judaism series weaves together history, belief, ritual, halachah, and tradition to convey the richly textured fabric of Jewish life.

This encyclopedic course can be taught in discrete units; includes photographs and artwork.


---


Volume 1: Israel
Grades 4-5
Contents include:
Eretz Yisrael
Klal Yisrael
Yerushalayim
Tzionut
Aliyah
Tzedakah
Bet Knesset
Pikuah Nefesh




| | | |
| --- | --- | --- |
| Teacher's Guide with Duplicating Masters | | Student Activity Book |
---

Volume 2: Torah
Grades 5-6
Contents include:
Mitzvah
Haftarah
Midrash
Halachah
Humash
Tanach
Nevi'im
Talmud




| | | |
| --- | --- | --- |
| Teacher's Guide with Duplicating Masters | | Student Activity Book |
---

Volume 3: God
Grades 6-7
Contents include:
Kedushah
Shema
Teshuvah
Shabbat
Tefillah
Bat/Bat Mitzvah
Brit
Olam HaBa




| | | |
| --- | --- | --- |
| Teacher's Guide with Duplicating Masters | | Student Activity Book |