Seven Species Dessert Bars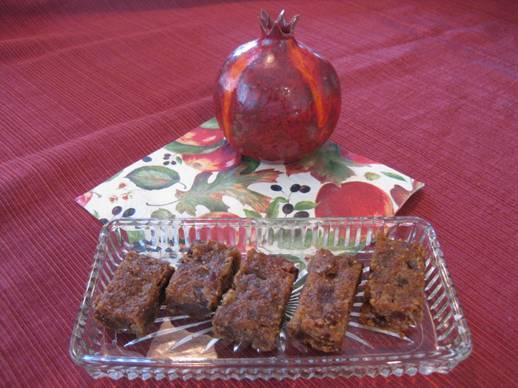 By Rena Gray Fein "…a Land of wheat, barley, grape, fig, and pomegranate; a Land of olive oil and date honey…" (Devarim 8:8) "…a land flowing with milk and honey…" (Shemot 3:8) These delicious bars, which contain all seven species as well as milk (in the form of butter) and honey, are the perfect treat for Tu B'Shevat and Shavuot. Enjoy!
Ingredients:
¼ cup butter
¼ cup honey
½ cup almond butter
10 dried dates, chopped
6 dried figs, chopped
¼ cup raisins
1 teaspoon olive oil
½ cup cooked barley
1 Tablespoon pomegranate juice
2 Tablespoon wheat flour
Instructions:
Spray a 9"x9" glass pan with olive oil.
Line pan with parchment paper and spray the paper with oil.
Melt the butter and honey together in a small pot. Add to almond butter and stir. Add the remaining ingredients and stir.
Spread the mixture into the prepared 9"x9" glass pan. Bake at 350°F for 30 minutes.
To cut into bars, cool completely and freeze. Alternatively, you can eat them right away while warm or crumbled, if you'd rather not wait for them to cool and freeze. Either way, enjoy this special, delicious treat!