7 Tips to Ensure Quick, Accurate Orders
Written by Behrman House Staff, 12 of May, 2017
As you plan for the upcoming school year, we suggest a few simples steps to ensure easy, accurate ordering.
1) Know your customer ID
Many synagogues and schools have similar names. Having your customer ID ready helps to save time and simplifies ordering. Don't know your customer ID? Check the top-right corner of a previous invoice or statement or look at the back of your Behrman House catalog. You can also call us at 973-379-7200 or email us with your organization name and zip code and we'll let you know.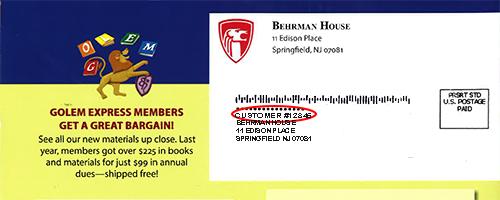 If you have not previously set up an account for your organization or for yourself, call or email us and we will set one up for you.
2) Clear up any outstanding balances
Don't let old balances get in the way of you placing your order for September.* If you are unsure whether you owe anything from past orders, call us at 973-379-7200 or email us. All customer support team members will be able to provide you with the statements or invoices you need.
3) Use our resources and build your shopping list in advance
Both the Behrman House website and your catalog have several resources to help you plan your upcoming school year.
The Resources tab on the Behrman House website is always available, no matter what materials you're using. There you'll find resources separated by subject, product, and even age-range. Look under the 'Curriculum Planning' heading and you'll also find some extra guidance in planning for your school year.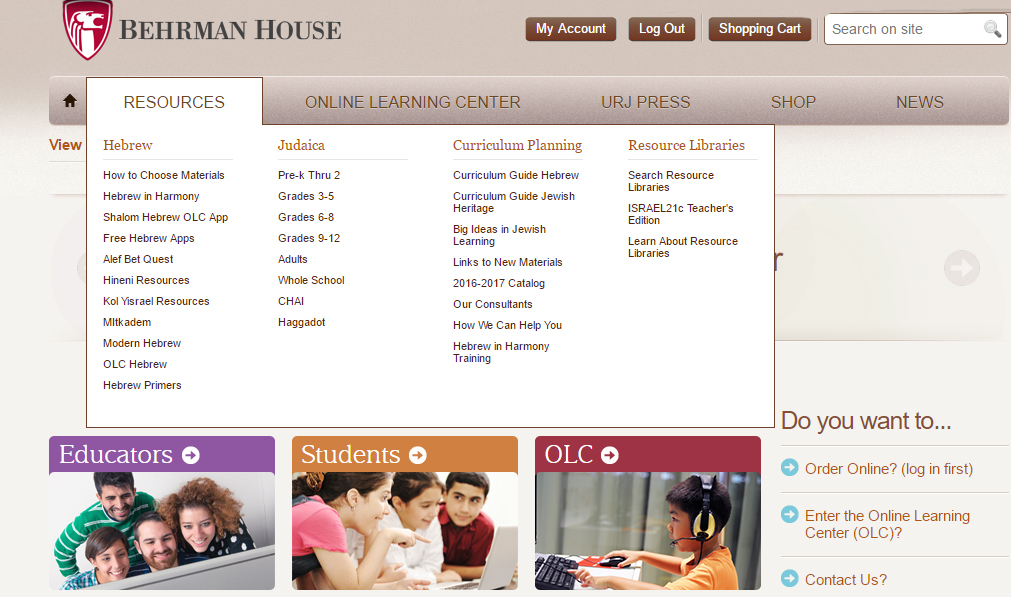 The How to Choose Hebrew Learning Materials page is a clickable, interactive way to match your needs with the best materials for your students. Whether you need a pre-primer, a primer, or a Hebrew series for your older students, this page will point you in the right direction.
To explore what materials we have available for Hebrew or Jewish heritage learning, access our online curriculum planning guides, which breaks down materials by age group, subject, and ability. These guides also exist as a pull-out guide in your catalog.
Our Big Ideas for Jewish Learning guide applies essential questions to different Behrman House materials and provides the evidence of learning for each.
Not sure what you need? Call us or email to schedule a 15-minute curriculum consultation with one of our educational professionals.
4) Have your list ready
Write it out or mark your catalog and include product numbers and quantities to ensure accuracy.
5) "Repeat this Order"
If you typically place your order online, you can review past invoices from "My Order History" in your account settings. Click "Repeat this Order" to add past materials to your shopping cart automatically. You can change quantities and add or subtract materials to update your order.
6) Use the order method that works best for you.
At Behrman House, we have many options to make ordering as simple as possible:
Online
The Behrman House Online Store is a simple way to browse and purchase any necessary materials for your upcoming school year. Use the sidebar to browse different subject areas or use the search bar to find a specific title. If you are ordering for your school account, don't forget to use code EDUCATOR at checkout to receive 5% off on all eligible materials.
Email
Email us and we will help you place your order. Include your customer number and/or the name of your organization with its zip code, titles and quantities of the materials you want to order. Include the product numbers whenever possible. Want to confirm your order before it is placed? Ask for a pro-forma invoice and we'll send one over before we submit the order.
Phone
Call us at 973-379-7200 and any customer service representative will be able to assist you in placing your order. Have your customer ID ready along with the titles and/or product numbers on your list and the quantity for each. The Behrman House Customer Support Team is available from 9-5 ET, Monday through Friday.
Fax
Using the same process as email, write out all relevant details and fax over your order to 973-379-7280.
7) Order Early!
Beat the August crunch by placing your order early. We can ship right away, or you can have us hold your order until a specific future date.
*If there is a large outstanding balance on your account that dates over thirty days, we will not be able to bill you until those outstanding invoices have been paid. Any new orders must be paid in advance by check or with a credit card until the balances have been cleared. We accept Mastercard and Visa. We apologize for any inconvenience this may cause. Call us at 973-379-7200 or email for a current statement or any required invoices.