Behrman House to Distribute for Gefen Publishing in the US
Written by Vicki Weber, RJE, 05 of August, 2011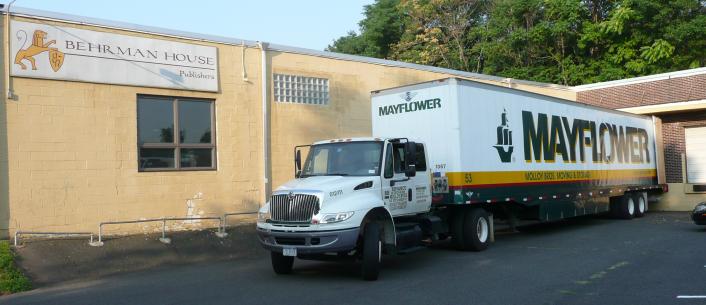 Gefen books arriving at Behrman House
With an inaugural shipment of a large order for Confidential: The Life of Secret Agent Turned Hollywood Tycoon – Arnon Milchan, Behrman House this week became the US distributor for Jerusalem-based Gefen Publishing House.
"I'm excited," said Ilan Greenfield, President of Gefen Publishing. "I'm really impressed by their organization and especially their staff. This will let us concentrate on making great books."
"It makes great sense for us both," said David Behrman, President of Behrman House. "We have convenient warehouse space here in New Jersey and our fulfillment operations have a superb record of accurate order processing and on-time shipment. We're delighted to be working with a publisher of Gefen's reputation"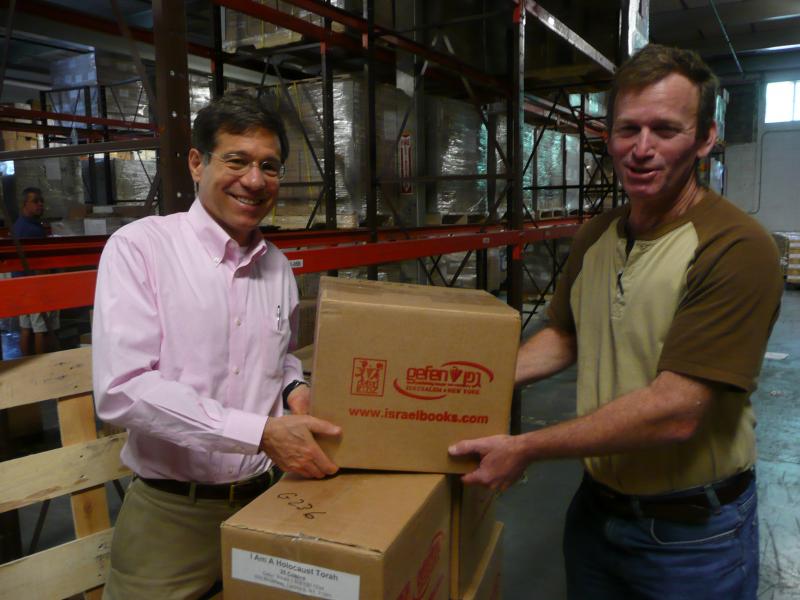 David Behrman and Ilan Greenfield on Gefen Publishing's "move-in day" at Behrman House
From the outside, things will look remarkably the same for Gefen's US customers, who will continue to place their orders using Gefen's regular email address (gefenny@gefenpublishing.com) and fax line (516-295-2739). Orders will then flow through the Behrman House facility seamlessly. "Gefen customers won't see any change, except that their orders are delivered more quickly," said Behrman.
Established in 1981, Gefen currently publishes close to forty original titles a year. The firm also acts as a distributor in the US for other Israeli publishers, including Modan, Magness (Hebrew University Press) and the Israel Museum. Gefen has published the works of such notable writers as Caroline Glick of The Jerusalem Post, Rabbi David Forman, and Dr. Yitzchak Arad, the former chairman of Yad Vashem. The company also specializes in Hebrew versions of popular children's titles, including the Dora the Explorerseries, a variety of Dr. Seuss books, and The Giving Tree, by Shel Silverstein.
"Confidential," Gefen's recently released biography of Arnon Milchan by Meir Doron and Joseph Gelman, is gaining increasing notice, in part because of Mr. Milchan's notoriety as both a movie producer and an arms dealer, and also because the book divulges details about the beginning of the romance between Brad Pitt and Angelina Jolie during the filming of Milchan's movie, Mr. and Mrs. Smith.
In the coming months, Gefen plans to release a book about the Warsaw Ghetto uprising written by Moshe Arens, former Israeli Ambassador to the US and former Israeli Defense Minister. In January 2012, Gefen will publish a new book by Rabbi Shmuley Boteach, author of The New York Times bestseller, Kosher Sex.Gefen will also soon release the Hebrew language edition of The Unofficial Harry Potter Cookbook, already a New York Times bestseller in the US.
Behrman House—which celebrated its 90th anniversary this year—is the leading North American publisher of textbooks and digital learning materials for the Jewish religious schools, and has published works by Abba Eban, Lucy Davidowicz, Rabbi Milton Steinberg, Rabbi David Wolpe, and Rabbi Bradley Shavit Artson. The company recently announced its plans for the Behrman House Online Learning Center, which will allow educators to create Jewish learning communities that are unconstrained by geography or time and provide direct access to multi-media materials to support them.