Cook, Talk, Share, Repeat: Entrée to Judaism Starts in the Kitchen
Written by Behrman House Staff, 25 of October, 2016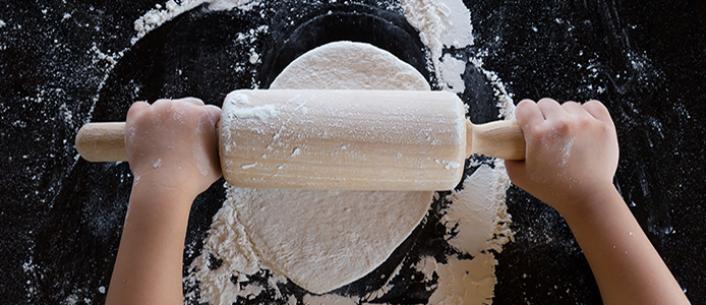 This year's Sukkot services at Congregation Or Chadash in Maryland ended with a new kind of oneg—a taste-off featuring recipes cooked by religious school families. The event kicked off a yearlong family education program based on Entrée to Judaism for Families: Jewish Cooking and Kitchen Conversations with Children, by Tina Wasserman.
Rabbi Alison Kobey of Or Chadash likes to experiment with creative family learning opportunities, and a small grant from her local Federation allows her to try new things every year, such as an intergenerational book club. With the goal of expanding learning beyond the hours of religious school, this year Kobey gave a copy of the book to each family to introduce a year-long cooking-themed program.
"Everyone loves food, and what I love about this book in particular is that it has stories and Jewish knowledge, not just recipes." says Kobey. "We want to bring together parents and children in a fun and meaningful way, and this book is a great vehicle for that because it teaches people, but in a small enough way that kids will read it too. Everyone's eyes just lit up with joy at this idea."

Entrée to Judaism for Families features:
Dozens of recipes for both holidays, Shabbat, and every day
Beautiful photographs of every recipe in the book
Historical details about the recipes and the communities that created them
Tips for cooking with children and ways to enhance the recipes
"Kitchen Conversations," which are activity suggestions and conversation starters to help adults teach their children about Jewish history through food
For the Sukkot program, families baked a recipe from Entrée to Judaism for Families at home and put them out after services for all congregants to taste, along with a card describing the origins of the recipe. The clear favorite: Chocolate Chip Mystery Mandelbrot (see recipe below).
Several other food-based events are planned for the year, some for the entire congregation and others just for specific classes. Teachers will also assign some kind of learning based on the "kitchen conversations," which are activity suggestions and conversation starters that accompany each recipe in the book.
Kobey also gave a book to each of the teachers. "It's only fair," she says. "We want them to talk it up and be excited too." Another reason to use cooking as the hook for family learning is that it's a comfortable and engaging way for non-Jewish parents to get a taste of Judaism.
"I am thrilled to hear about this program," says Wasserman. "Entrée to Judaism for Families is being used as I hoped it would be - families and communities cooking together as they share our culinary history and traditions."
If you're thinking of organizing a similar family learning program, get a discount of 30% off orders of more than 25 books, and 35% off orders of more than 50 books. Order Entrée to Judaism for Families here.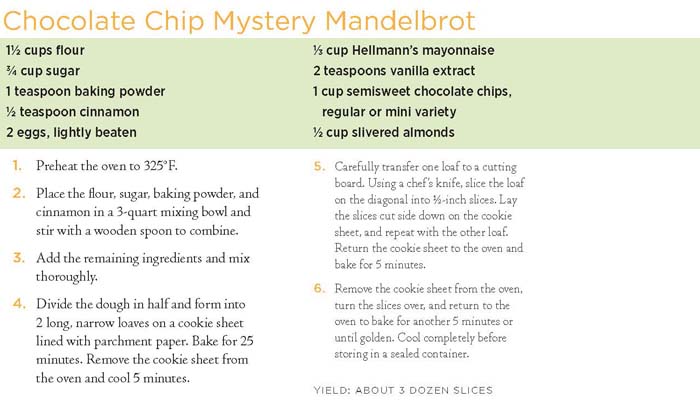 Mandelbrot means "almond bread" in Yiddish, but its origins are the biscotti cookies created in Italy more than 700 years ago. Biscotti originally contained no fat or sugar and were baked twice so they would be very hard and dry and last for months on ships at sea. Biscotti recipes traveled north to Germany, where they became popular within the Jewish communities because they could be made in advance of Shabbat and stay fresh for days.
*Mayonnaise is the mystery ingredient in these Mandelbrot. Why? During the Depression and World War II, butter and cooking oil were expensive and hard to come by, so mayonnaise was often substituted in their place.