Experience Hebrew in Harmony in May
Written by Behrman House Staff, 02 of May, 2016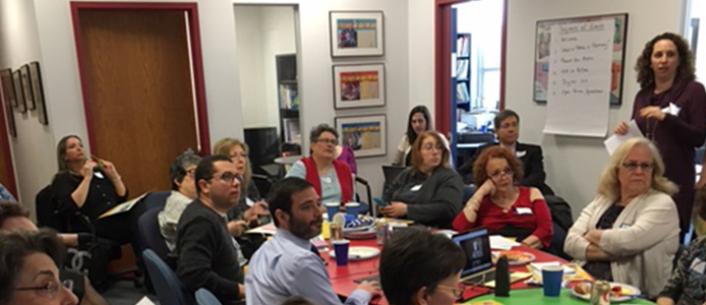 The excitement about Hebrew in Harmony has been spreading, and it may be coming soon to a community near you.
In April, we hosted two information sessions in New Jersey about this groundbreaking new prayer curriculum, and we're taking it on the road in May with several events for you to learn more about it.
Hebrew in Harmony combines art, movement, mindfulness, games, videos, journaling—and of course, music—into a fully blended learning experience. With 22 individual modules to choose from, educators can teach prayers in any order, in a variety of settings.
Join us for coffee, pastries, lively conversation with other local educators, and an introduction to Hebrew in Harmony at the following sessions:
Long Island - May 9, hosted by Ann Koffsky, Behrman House senior editor. For more information or to register, contact Ann here.
Boston - May 19, hosted by Joan Carr from Behrman House, in partnership with Julie Vanek at the Combined Jewish Philanthropies, Greater Boston's Jewish Federation. For more information or to register, contact Joan here.
Toronto - May 30/31 - hosted by Marlene Myerson from Behrman House and Natalie Walden at the Julia and Henry Koschitzky Centre for Jewish Education/ UJA Federation in Toronto. For more information or to register, contact Marlene here.
If you've already been introduced to Hebrew in Harmony, you're ready to see the program in action. Join musical director and author Eliana Light and creative director Terry Kaye to experience a virtual lesson. In this 40-minute webinar, we'll take you from the "start" activity when kids arrive, through the music and movement, to the journal use, and finally to the wrap-up activity. You'll see how it all integrates with the digital application too.
"HiH in Action" webinar: Wednesday, May 11, 1-1:40 pm EST
Register here. Please invite your colleagues to join us!
Like what you see? Join the Hebrew in Harmony Facebook group to share ideas.