Free Hebrew Practice Links for Student Success
Written by Behrman House Staff, 25 of October, 2016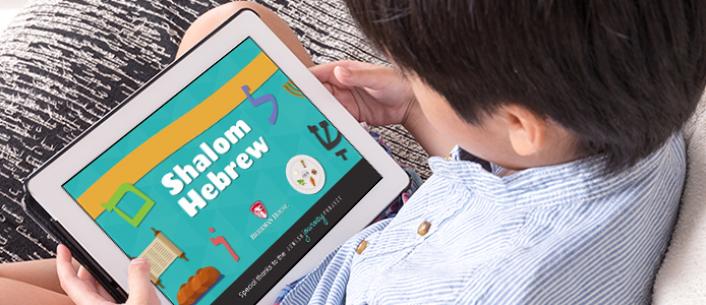 Make the most of the next eight weeks of school (before winter break)!
We know you want to ensure your learners get good opportunities to learn and practice Hebrew. We know that when kids practice Hebrew for just five minutes a day, they get better more quickly. That's why we offer lots of free digital resources for students to practice Hebrew - on their time, on their devices. You can send links to your families and recommend our free apps for quick and fun ways to enhance their learning.
Online
Right from our home page you can find free Hebrew and prayer reading practice and simple alef bet games for use on a laptop or desktop. Direct students and parents to the bottom of behrmanhouse.com and click Students, or send home direct links.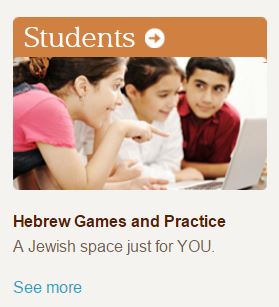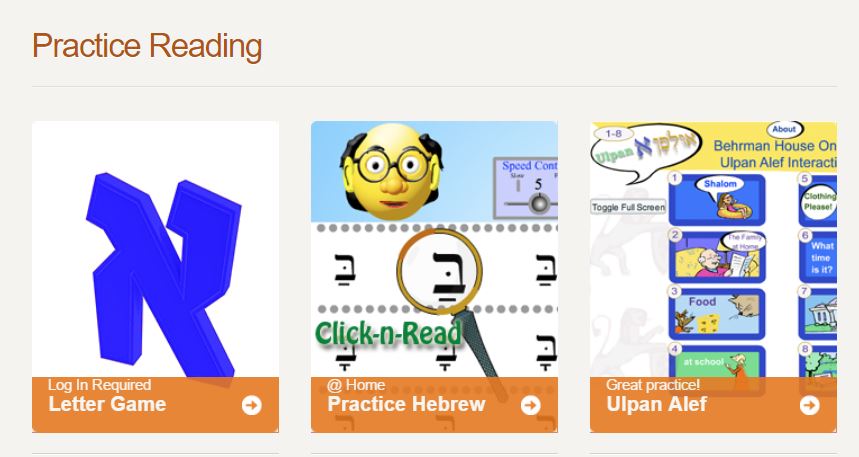 Online Learning Center
You can use our Hebrew language blended learning materials in the Online Learning Center. Create a FREE school account and send kids to your own virtual school space for free practice exercises for students, including Hebrew primer level and prayer practice, as well a fast-paced letter game. You can direct students to access these tools by clicking on the yellow toolbar in the OLC or send home direct links to the tools.


Apps
Shalom Hebrew
Shalom Hebrew OLC App is an interactive digital primer packed with engaging features, interactive reading exercises that can be recorded and reviewed by educators, and more than a dozen games. Link it to student accounts in our Online Learning Center and let them choose where they wish to practice—and on which device—while their progress and recordings are saved centrally.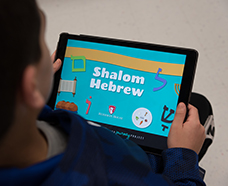 Designed as a universal app accessible from any PC or Mac desktop; laptop; tablet; or smartphone, Shalom Hebrew OLC App works as a companion to all of the Shalom Uvrachah materials, or can be used as a Hebrew learning tool on its own.
You can have students try out the first five lessons of Shalom Hebrew digital primer for free, and then add the full version by buying it and adding the students to a Shalom Hebrew OLC class. Available for free download from the Apple App store, Amazon App store, and on Google Play.
Batya's Bubbles and Blessings
Students can play, listen, and record from Kol Yisrael volumes 1, 2, and 3 through this free interactive game. Batya's Bubbles and Blessings includes 12 Hebrew blessings and prayers, and includes an updated Hebrew/English main menu.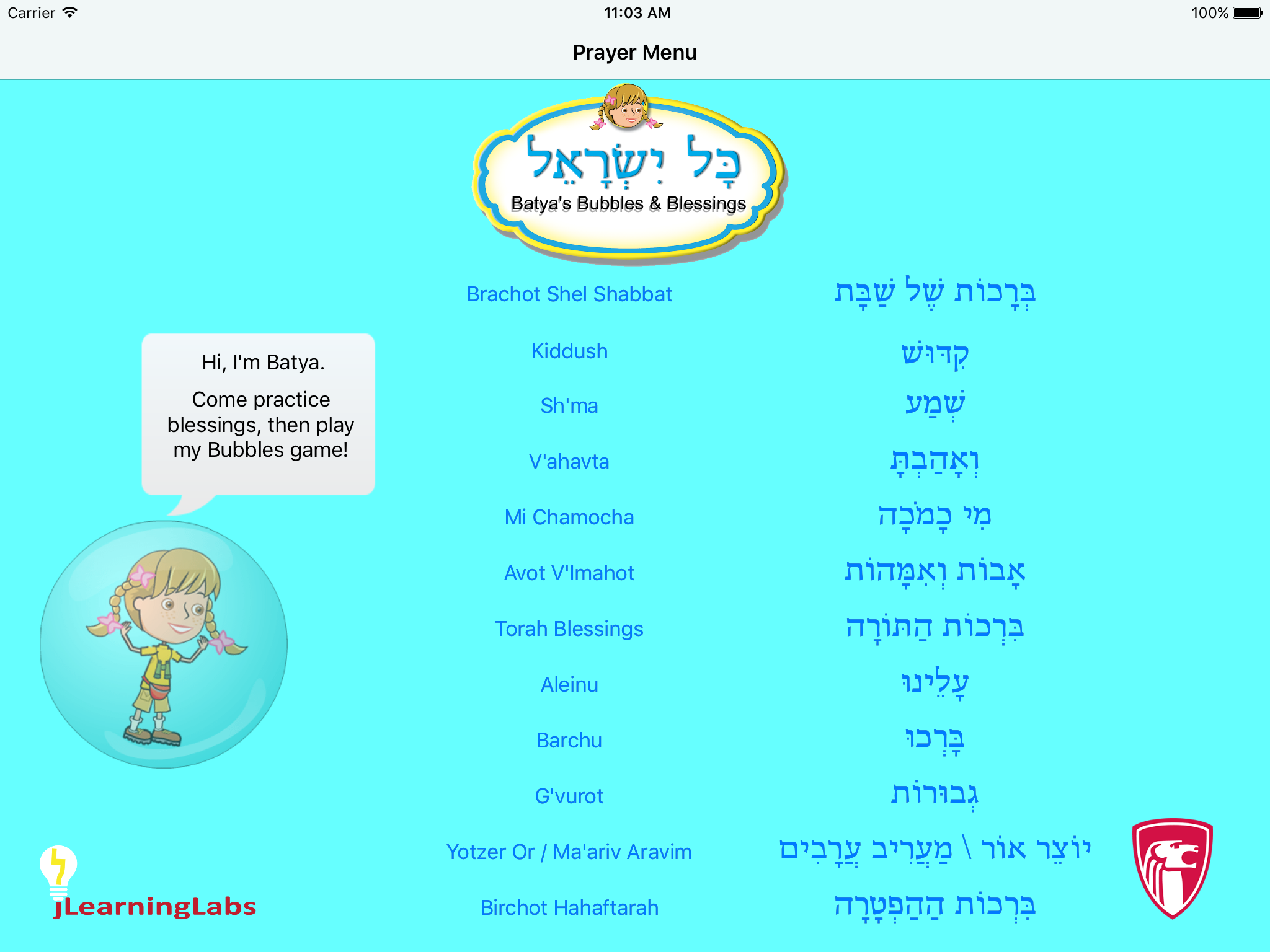 Use Batya's Bubbles & Blessings on an ipad to support your use of the Kol Yisrael Hebrew program to practice prayer reading, skills, and to review the prayers from all three volumes of Kol Yisrael.
Learners can record themselves while reading, chanting, or singing the prayers and blessings, and have the option to email the recordings to anyone. The recorded files can even be played on iTunes. Download from the App Store now!
Hebrew Karaoke
Join Mama Doni and learn her alef bet song in this free app for your iPad or iPhone. Listen as the alef bet letters dance or switch to karaoke mode and sing along. Download Hebrew Karaoke from the App Store.
Unlimited Alef Bet
This fun decoding tool uses talking animated workds to help students begin associating sounds with letters and words they help to build. Unlimited Alef Bet is available for FREE for iPad and iPhone from the App Store, and from Amazon for Android devices.
Let's Discover the Alef Bet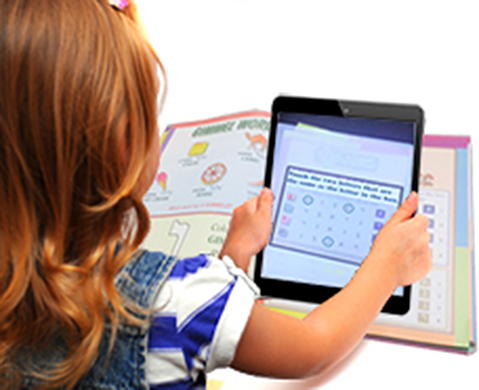 The camera on a mobile device or tablet activates digital elements in folders Bet, Dalet, Yud, Shin, and Tav in Let's Discover the Alef Bet. For use on iPad and iPhone, download from the App Store.
With so many free digital Hebrew practice options, students can keep their language skills sharp with just a few minutes a day. Want to know why? Watch this short video to find out.