'It's Too Crowded in Here!' Receives 2011 Sugarman Family Children's Book Award
Written by Jessica Gurtman, 31 of October, 2011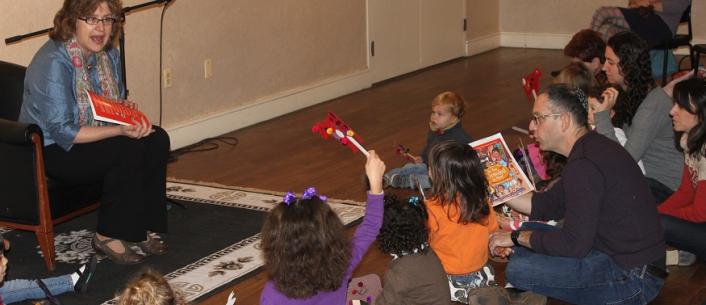 Vicki Weber reads from her book "It's Too Crowded in Here!"
Behrman House's own Vicki L. Weber received the 2011 Sugarman Family Children's Book Award for her collection, It's Too Crowded in Here! and Other Jewish Folktales, published by Behrman House.
The Sugarman Family Children's Book Award recognizes the best recent contribution to Jewish children's literature. It was established in 1994 by the late Joan Sugarman, a noted author, children's librarian and college instructor, who joined with other family members to thank, encourage and inspire other writers and illustrators for Jewish children. The award recognizes the best fiction, non-fiction, or illustrated book for children aged 3-16.
"It is deeply gratifying to have my work acknowledged in this way. I was trying to do something a bit different, and that always entails a little risk," said Weber.
The collection of eight stories retells some familiar and unfamiliar Jewish folktales and midrashic stories for children aged 4-8, and includes for each a page of material for the adult reader who wants to know a bit more about why the universal values highlighted in these tales are also deeply a part of Jewish tradition.
Mara Bier, Director of Early Childhood Initiatives at the Partnership for Jewish Life and Learning and a member of the award selection committee for 2011, said the decision, which was unanimous, reflected the committee's excitement about a the way the book refrains from over-simplifying or 'dumbing down' material for young children. "These are smart stories that treat children as intelligent beings with the capacity for understanding nuance," she said.
The emphasis on approaching Jewish values through stories, and the incorporation of accessible material for parents were also features appreciated by the committee, according to Ms. Bier.
It's Too Crowded in Here! was featured during a family program at the Washington DC Jewish Community Center that included a crafts project based on characters in the book, followed by an interactive storytelling session with Ms. Weber in which children used puppets they created themselves to help tell the story of a large family learning to live in a small space.
Following a Wall Street career spent researching and writing about a wide variety of consumer products companies, Ms. Weber now creates books and materials to introduce children and adults to Jewish thought, values, and practices. It's Too Crowded in Here! is her eighth book and her first book of fictional stories for children.
Her first book, The Jewish Holiday Home Companion: A Parent's Guide to Home Celebration (with Nicholas Mandelkern), was published by Behrman House in 1994. Her other titles include Tradition: Celebration and Ritual in Jewish Life (Hugh Lauter Leven Associates), Let's Discover Mitzvot, and Teach Me Torah (Behrman House). Ms. Weber joined the staff of Behrman House in 2003, and currently serves as head of Sales, Marketing, and Strategic Business Research.
A graduate of Bryn Mawr College and a Chartered Financial Analyst (C.F.A.), Ms. Weber has three children and lives in Summit, New Jersey where she and her family have been fostering puppies for The Seeing Eye of Morristown during the past three years. A former Trustee of Bryn Mawr College, Ms. Weber has also held volunteer city planning and zoning positions in her town for over 17 years, and has served on the boards of a number of local service and school organizations.