New From Apples & Honey Press: Judah Maccabee Goes to the Doctor
Written by Behrman House Staff, 17 of October, 2017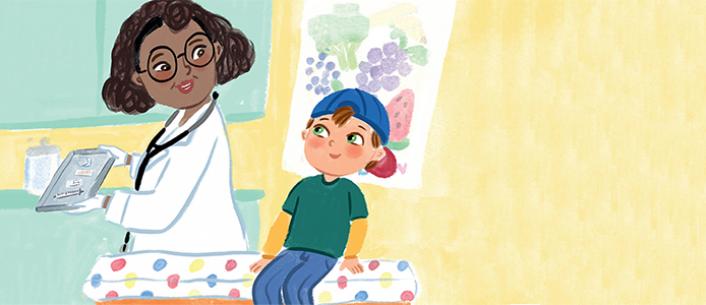 Just in time for Hanukkah, author Ann D. Koffsky has released a new book — Judah Maccabee Goes to the Doctor: A Story for Hanukkah.
Judah Maccabee Goes to the Doctor is the tale of a boy named Judah who wants nothing more than to be a good big brother to his sister, Hannah. But when it comes time to visit the doctor for their annual visit, Judah is not so sure. Can his shield protect him from germs and a scary shot from his doctor?
Here's what Publishers Weekly had to say about the latest from Apples and Honey Press:
"Here's an unusual twofer: a Hanukkah book that advocates for vaccinations. Brisk text and schoolroom-cheery illustrations introduce a boy named Judah, who's trying his best to be a hero to his baby sister, Hannah (he tries sharing his "Choco-monster-delight cereal," which she joyfully returns in a projectile spit). Just when he thinks he has the big brother role cinched, thanks to a toy Maccabee shield he receives for Hanukkah, Judah discovers that it's time for his vaccinations—and in the presence of a watchful Hannah, he balks. Koffsky and Shipman take a while to get to the heart of their message, but when they do, it's perfectly pitched for their audience: being vaccinated, Dad explains, is just one more way we protect the people we love."
Koffsky recently wrote in The Jewish Press about how the story of the Maccabees' offers us strength and courage, and how that defines us as responsible adults. Here's what she wrote:
​
Koffsky has started a new feature on her blog called #doctorsforjudah. Take a look at Ann's first profiled neonatologist, Doctor Robert Koppel, who acted as the medical consultant for the book.
Judah Maccabee Goes to the Doctor is now available for purchase from Amazon. Want to order multiple copies for an event? Contact us today to discuss a quantity discount.