Reviews are In for Upcoming Passover Books
Written by Behrman House Staff, 31 of January, 2017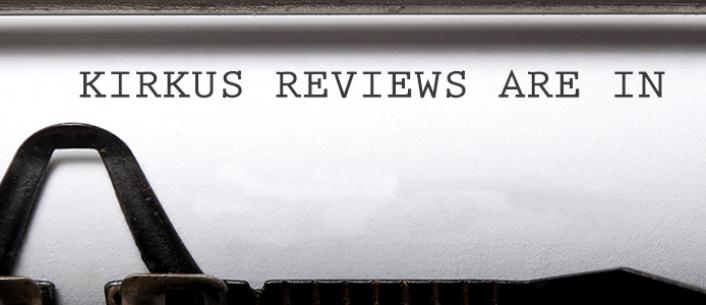 Two of our upcoming Passover releases, How It's Made: Matzah and The Passover Cowboy, have been read and warmly received by the reviewers at Kirkus Reviews. Considering these books for use in your classroom or home? Read on to see what the reviewers at Kirkus Reviews had to say.
How It's Made: Matzah
Written by Allison Ofanansky
Photographs by Eliyahu Alpern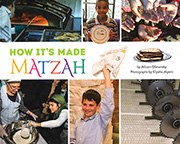 "All about that flat, unleavened holiday food—from dough to desert.Starting with a brief description of the spring festival of Passover, which celebrates and commemorates the exodus of Jewish slaves from Egypt, Ofanansky goes on to describe, step by careful step, the preparation of matzah. Timing is all-important, as everything from preparing the dough to baking must be completed in less than 18 minutes. It is at the Passover Seder where the reading of the Haggadah, the story of the exodus, takes place. A Seder plate containing foods relevant to the tale and the time of the year sits on the table, and three boards of matzah in their own special cover are placed nearby. Children are always included in this family celebration, and in that spirit there are also instructions for baking matzah at home and creating a matzah cover, Seder plate, and cup for the prophet Elijah, who is invited into the house during the evening. Children familiar with the holiday will enjoy the close-up photographic details. Those new to the festival will learn much, especially benefitting from a well-captioned photograph of the Seder plate. The interactive text is engaging for all. The combination of concise, easy-to-understand text and copious photography presents an accessible understanding of Passover and matzah."
The Passover Cowboy
By Barbara Diamond Goldin
Illustrated by Gina Capaldi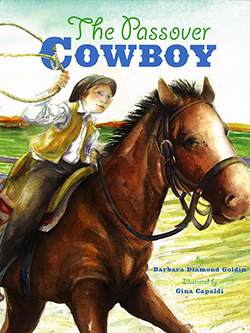 "Russian Jews settle in Argentina—a little-known but timely fact. In Argentina, two pale-skinned boys are racing their horses. Benito, born in the country, is comfortably attired, while Jacob is still dressed in the too-tight clothing of the old country. It is just before the Jewish festival of Passover, and Jacob invites his new friend to the Seder, but Benito turns him down. Jacob returns home thinking about their lives in Russia, with houses so close by that neighbors visited frequently. At his house, his mother and sister are busy with the many delicious food preparations. Still, Jacob wishes Benito would come—opening the door for the prophet Elijah and other guests is part of the celebration. He is happy, though, to receive a very special gift from his mother: Argentinian clothing perfect for riding horses. When the door is opened, however, chaos follows as messy chickens invade their kitchen. Benito arrives just in time to help save the dinner and present his friend with a much-needed present, a lasso. Goldin's story is a warm-spirited tale of an immigrant family. An author's note explains the work of Baron Maurice de Hirsch, who sponsored Russian Jewish immigration to Argentina in the late 19th century. Capaldi's watercolor illustrations fill the pages with action and personality. A Seder and cowboy clothes are beautifully woven together."
How It's Made: Matzah and The Passover Cowboy are available for pre-order from Amazon.
Considering a special program for Passover? Contact us about bulk sales of our Passover children's books. We provide discounts of 25% on orders of 25 or more copies for special events.
Need Passover Haggadot? You can find all available titles here. We offer quantity discounts of up to 30%.