Shalom Hebrew OLC App Now Available
Written by Behrman House Staff, 08 of March, 2016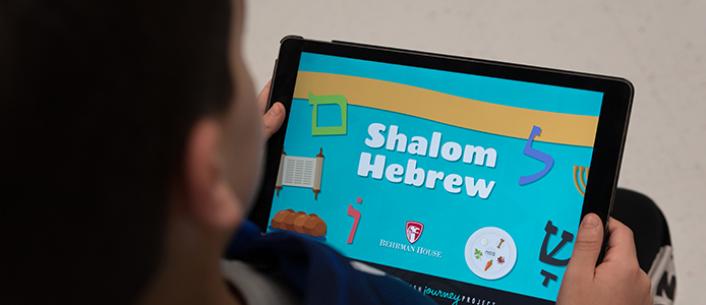 Practice Hebrew at home, school or on the go – on any device!
Developed in conjunction with the Jewish Journey Project, Shalom Hebrew OLC App is a digital primer to learn decoding, Hebrew letters, vowels, and keywords. Packed with engaging features, interactive reading exercises that can be recorded and reviewed by educators, and more than a dozen games, Shalom Hebrew OLC App makes learning to read Hebrew fun AND effective for students of all ages.
Designed as a universal app, Shalom Hebrew OLC App can be used on any PC or Mac desktop; laptops; tablets; or smartphones. The app can be linked to student online accounts in our Online Learning Center and lets students choose where they wish to practice—at home, at school, or even in the car—and still allows their progress and recordings to be saved centrally.
Shalom Hebrew OLC App follows the same structure, organization, and pedagogy of the Shalom Uvrachah materials: Shalom Uvrachah and Shalom Uvrachah Primer Express (3rd and 4th graders), and Shalom Hebrew (5th grade and up). Each of the 25 lessons can be used as a supplement to the Shalom Uvrachah materials or even other primers for additional Hebrew practice, or used completely independently.
Click here for the full version, now available in the Online Learning Center.
When downloaded from the AppStore, the first five lessons are available immediately. Students can access the full version after you add them to an OLC class with the Shalom Hebrew App software.
Try it through April at no charge!