Student Safety Online: A Look at the Child Online Privacy Protection Act (COPPA)
Written by Behrman House Staff, 07 of November, 2012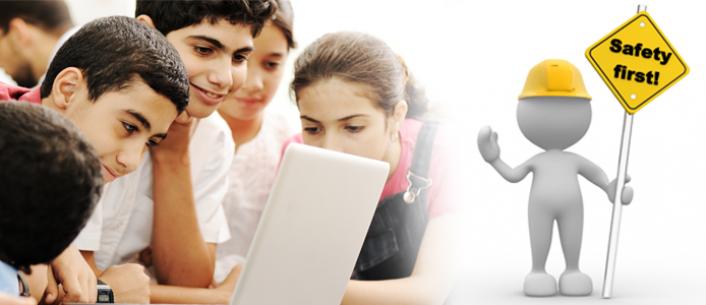 Each day that they're in school, we protect our children with a variety of tools: security cameras, safety scissors, drug-free school zones, fire drills, stair railings, and non-toxic art supplies, to name a few. But what about when they sit down at the computer and go online?
As education becomes increasingly web-based, educators must add online privacy and protection to their safety checklists. Are the resources we provide our students safe and secure? Do the websites our children use comply with federal regulations for privacy and protection?
The Children's Online Privacy Protection Act (COPPA), enacted in 1998, regulates the online collection of personal information from children under 13 years of age. COPPA is a guiding force in the structure of our Online Learning Center; we regularly review our policies to ensure a private, safe, secure environment for Jewish education.
COPPA has guided the way we structured the signup process for the OLC, and it is the underlying answer to most of the questions we receive about the sign ups and invitations that give students access to their school's online synagogue. The most frequent questions are:
Why can't I just create accounts for all of my students?
COPPA requires that the school and any software it uses "obtain verifiable parental consent for the collection, use, or disclosure of personal information from children" (COPPA sec. 1303). That means that a child's parent is the only person who can check off "I agree" for the Terms of Use and Privacy Policy that all users must read when signing up for online accounts. It's the way we ensure that parents have said "yes" to their children's participation in the OLC.
Why do students need to sign up with an email address?
This is what makes our invitation-only system work. It means that each child is associated with a unique email address, and that permission for one student is not confused with permission for another. Keep reading to learn how the invitation-only system keeps the OLC safe and secure.
Why do teachers have to invite students to classes?
An email invitation gives parents the opportunity to give or deny permission for their child(ren) to use an online platform that collects personal information, such as their first and last name. When the invitation is accepted, the parent accepts terms of service for the OLC. This is the parents' opportunity to say "yes" or "no" to having their child use the platform.
Why can't students just log in and join my online synagogue?
If we did not require invitations to be sent to the verified email addresses of students, then anyone would be able to access your online synagogue, enroll, interact with your students, and post material.
Why can't I send a list of student emails to Behrman House and get it all set up?
All of the information we gather from BehrmanHouse.com users is encrypted and safely stored on our web servers. If we or anyone else could just enter email addresses into the system and enroll students, then we (or you) would be able to enroll them without a parental consent. This would violate the COPPA rules.
How does Behrman House use the personal information collected from children?
We will never, under any circumstances, sell or trade a user's personal information to a third party. Even without that commitment, the law requires sites to get parental permission to share information with other parties.
We know the sign up and invitation process takes a little extra time and effort, but we think it's worth to keep your students safe online and to keep your school in compliance with COPPA. Anyone considering using online learning resources for children should read up on COPPA and evaluate each site's compliance with the act. Here are some resources to get you started:
● COPPA explained on Wikipedia
● How to Comply with the Children's Online Privacy Protection Rule- Bureau of Consumer Protection
● COPPA Frequently Asked Questions- Federal Trade Commission
● Understanding the Children's Online Privacy Protection Act- Wall Street Journal