Terry Kaye Celebrates 20 Years with Behrman House
Written by Vicki Weber, RJE, 24 of May, 2011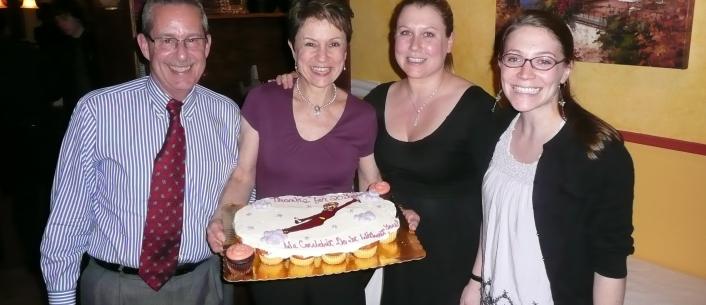 Terry Kaye celebrated with her family at the recent dinner in her honor.
On May 17 Behrman House celebrated an important milestone—something you probably aren't aware of.
Do you use our Kol Yisrael Hebrew series? How about Hineni? Have you referred your colleagues to Teach them Diligently, or perhaps given it to your teaching staff as an end-of-year gift? How about attending any of our workshops? Or seeing us at NATE, JEA, and CAJE conferences or at various community training events?
If you have, you've worked with Terry Kaye, our VP of Educational Services and Director of our Consulting Group. She has authored or led the development of all of our current Hebrew materials and contributes as an editor or reader to every title that we publish. She represents us at public events more than anyone else. In fact, for many people in our community, Terry is Behrman House.
This month marks Terry's 20th anniversary here. She came to us with a teaching degree and the desire to spend a few hours a week helping customers. (It was amusing in the early days—it seemed that whenever Terry answered the phone the first question would be "are you British?"—no, South African, then "Are you from Johannesberg?"—no, Capetown, and lastly "Do you know (fill in the blank)?" –usually no, but it's a small city so sometimes there was a connection. Then, they could get down to business.
It's difficult to fully describe Terry's contribution here—I really don't know where to start. From curriculum design, to developing books and software, to helping educators throughout North America use them most effectively, Terry is there. Her fingerprints are on everything we do. The work of this Firm, and the work of you and your colleagues, has benefitted enormously from her talents and her commitment.
Indeed, it is her fierce commitment that most distinguishes Terry. She is fiercely committed to educators, and over the years has come embody that role within Behrman House. So when Terry speaks of what educators want and need, or what will work in the classroom, each of us listens carefully.
Terry is also fiercely committed to this Firm. Making us more effective. Helping us bring out more, and better, books and software. Establishing structures and relationships that help us function smoothly, do great work, and maintain a fun and productive working environment.
What's impressed me most, though, goes even beyond this commitment. It's her ongoing desire to challenge herself to become more capable, more effective, stronger. Terry is second to none in her willingness to take on new challenges, to push herself to grow, and to ask the question of how she will be different, better, and stronger tomorrow than she is today. It is this aspect of her character that to me is the most notable, and that tells me that her most important contributions to our work, and to yours, are yet to come.
Thank you Terry, for your unwavering commitment and for all you have done for Jewish Education and for Behrman House over the past 20 years.
Your friend and colleague,
David Behrman