We've Made the OLC Easier to Use
Written by Behrman House Staff, 29 of March, 2016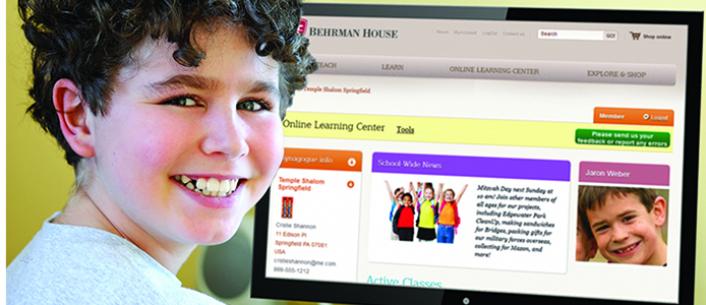 More than 525 educators and 3500 students have logged in this year to teach and learn online.
The Behrman House Online Learning Center is about to enter its fourth year, and we continue to make improvements to make it the best—and easiest—year ever for students, teachers, and education directors. At the same time, our commitment to children's safety and privacy online is simply unparalleled.
Here are some of the changes we have made to make the OLC work better for you:
Easy Password Reset. Authorized school officials can now reset forgotten passwords themselves.

More Mobile-Compatible Materials. Beginning this year, all new materials developed for the OLC will usable across the range of devices.

Smooth Enrollment Management. Education directors can review, manage, and even export lists of all the members registered in your OLC community.

Simple Additions of New Members. Late enrollees to your community can be added easily to any group.

Quick-Click Transfers. Students can be transferred smoothly from group to group—and their access to online materials moves right along with them.

No More Member Email Invitations. With parent permission forms in hand (available for download online), authorized school officials can create and administer member accounts and set up classes immediately. Emailed invitations to parents and students are no longer required. (Teachers still need to receive invitations to join your school.)
And coming this spring, in advance of the 2016-2017 school year, education directors will be able to upload student lists in groups to the OLC using an Excel spreadsheet. This top feature request will put an end to one-by-one registration of your students and make it simpler for large schools to administer their online learning space.
The OLC also has a variety of new learning features, including free prayer practice, a fast-paced Hebrew letter game, and a virtual Hebrew keyboard.
Did you know that the OLC platform is FREE? You can create a class online and upload your own materials—YouTube videos, MP3 files, photos, word documents, pdfs, links to online resources, and more—to enrich Jewish learning in your community. The posting and commenting features embedded in the OLC let you create a variety of projects and experiences. The site also provides an excellent vehicle for learners to post and show their work as a virtual portfolio to demonstrate evidence of learning—perfect for expeditions and project-based learning experiences.
Not the OLC you remember? Learn more about using the latest version of the Online Learning Center at www.behrmanhouse.com/olc/tutorials