6 Ways to Celebrate Israel
Six Ways to Celebrate Israel

A checklist of ways to celebrate Yom Ha'atzmaut, connect students and their families to Israel, and cultivate a love of the Jewish homeland.
---
Below you will find six ideas for celebrating Israeli culture, history, and identity. Several ideas are classroom-specific, while others involve the whole family or the entire school.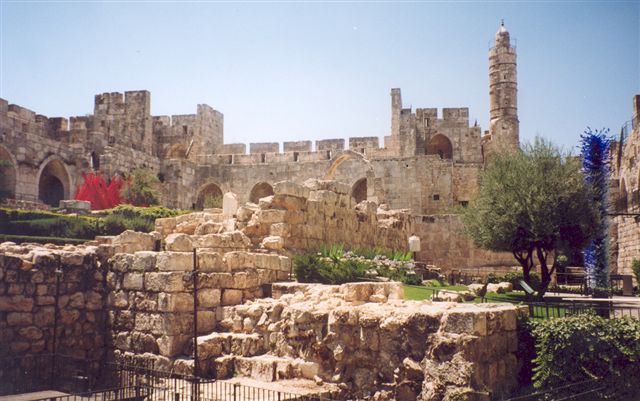 Each of the six celebratory ideas has three sections:
How To outlines a few simple ways to put the idea into practice.

Think BIG describes ways to expand an idea into a school-wide Israel celebration.

Text-Based offers advice on how to explore, enrich, and reinforce lessons about Israel using Behrman House materials
.We hope that you will use these ideas to turn your classroom, school, or synagogue into a Happy Birthday Israel Headquarters.
1. Celebrate with Food, Music, and Games.
How To: Make Israeli culture real for students by treating them to Israeli goodies—food, music, and games.
Teach Israeli rock songs to students. Try to pick songs that have catchy beats and choruses with simple—yet important—Hebrew vocabulary, such as "Od Yavo Shalom Aleinu" [Peace will yet come upon us] by Sheva.

Taste Israeli candy. Display an Israeli comic book. With Bazooka Bubble Gum, you can do both! After all, the Israeli gum has Hebrew comics inside.
Think BIG: Organize a school-wide falafel dinner.
After dinner, older children can play sheshbesh, or backgammon, and listen to Israeli rock-and-roll.

For dessert, why not make Israel out of cake? Outline the map of Israel on a frosted cake. Allow students to decorate the cake using blue frosting for the seas, yellow jelly beans for the desert, and green sprinkles for the Golan. Make celebrating Israel a delicious experience.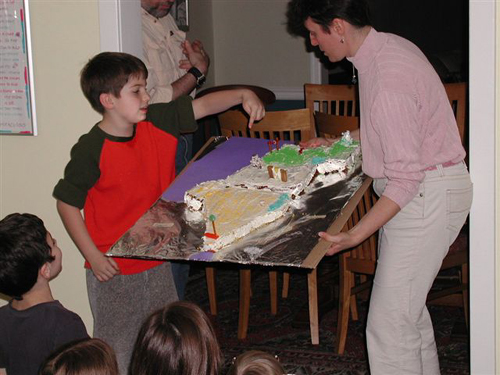 Text-Based: Focus lessons on Israeli food and games.
Whet the appetites of your 2nd–3rd graders with the delicious foods on pages 24–25 of The Great Israel Scavenger Hunt. Treat the class to an Israeli food party.

Turn to page 101 of Welcome to Israel! to see Israeli children playing sheshbesh.Turn to page 103 to find out about Israelis' favorite foods.
2. Celebrate with Israelis.
How To: Invite Israelis to talk about different parts of Israeli society, such as the army or a kibbutz.
Consider inviting Israeli teenagers so that your students can connect with young Israelis. Make sure to emphasize that Israelis come from all different backgrounds. Your invitations to Israeli speakers can take into account the diverse demographic make-up of the Jewish homeland.

You might also invite local Israel activists to teach students how to advocate for Israel. Encourage your students and their families to become involved!
Think BIG: Create an Israel-themed monthly lecture series, such as "The Faces of Israel."
Invite Israelis of all backgrounds to share their life stories or particular field of interest.

Make the lecture series kid-friendly by inviting Israeli sports players or folk singers.
Text-Based: Demonstrate the diversity of Israeli culture and society.
3. Celebrate with Hebrew.
How To: Create a Hebrew-rich environment by using Hebrew terms whenever possible.
Talk about the kotel in Yerushalayim instead of the Western Wall in Jerusalem.

Instead of singing "Happy Birthday," teach your students the Hebrew version, "Yom Huledet Sameah." You'll be able to sing that song throughout the year as students celebrate their birthdays!
Think BIG: Involve older students in making Hebrew fun.
Have students create Hebrew skits that they can perform monthly for younger students ("That's a nice house. I think I'll bayit.")

Invite students to lead Hebrew games, such as "Shimon Omer" (Simon Says). Older students will develop leadership skills and learn Hebrew at the same time!
Text-Based: Make Hebrew in the classroom interactive.
Teach 6th-7th graders Hebrew by using the popular Let's Talk! Modern Hebrew for Teens. Students follow four trendy pre-teens as they party in Tel Aviv and swim in the Dead Sea—all in Hebrew! Bring the text to life with the 15 recorded dialogs on the companion audio CD, Let's Talk! Live.

Visit Ulpan Alef Interactive, where students learn basic modern Hebrew vocabulary through multimedia cartoons and video games. Kids tell us they love this site! Visit http://www.behrmanhouse.com/ua/
4. Celebrate with Judaism.
How To: Connect Israel to Judaism.
Teach younger children one of the many prayers that describes Israel's connection to the Jewish people. For instance, what song do we sing at the end of the Passover seder? L'shanah ha'ba'ah bi'Yerushalayim!

Alternatively, use a modern map of Israel to plot biblical locations. Where did the Israelites enter the land? What biblical events took place in Jerusalem?

With older students, you may wish to read the Israeli Declaration of Independence and compare it to the American Declaration of Independence. Discuss the role of religion in the foundation of the two countries.
Think BIG: Organize an Israel-themed Shabbat service.
Count the number of times we mention Israel or Jerusalem in our prayers. Recite the Prayer for the State of Israel in Hebrew or English, and encourage students to share their own prayers for Israel.

Ask an Israeli member of the congregation to give the d'var Torah.
Text-Based: Connect Israel to living a life of Jewish values and practice.
Welcome to Israel!'s "Living Jewish Values" feature connects Israel to core Jewish values. Page 65 explains how the value of Ve'ahavta Lerei'acha Kamocha—love your neighbor as yourself—has helped Jews and Arabs live together peacefully in Haifa.

For your older students (grades 6–8), use Chapter 14 of Rediscovering the Jewish Holidays to connect Israeli holidays with Jewish holidays. For your younger students (grades 4–6),The Book of Jewish Holidays provides keen insight into the history of Israel and the celebration of Yom Ha'atzma'ut.
5. Celebrate with the Whole Family.
How To: In honor of Yom Ha'atzma'ut, celebrate with families at school-wide celebrations.
Invite families to a night of Israeli dancing and singing.

Screen an Israeli movie that appeals to people of all ages, such as the 1974 Israeli musical, Kazablan [Casablanca], which showcases the diversity of Israeli Jews with the bonus of catchy tunes and disco clothing.
Think BIG: Organize a family Shabbaton with the theme: Israel Today.
A weekend-long family getaway provides an ideal setting to celebrate Israeli culture and explore the complex political and diplomatic history that defines Israel until today. Introducing the complexities of Israeli society can be difficult. A Shabbaton provides an unrushed setting in which to approach these sensitive topics.

If a Shabbaton is not feasible, consider organizing a parents and students lecture and dialogue about the conflicts in the Middle East. Invite an Israeli historian to lead the discussion. Contact your nearest Israeli Consulate or Jewish Federation office for names of speakers.
Text-Based: Connect Israel to students' own family histories.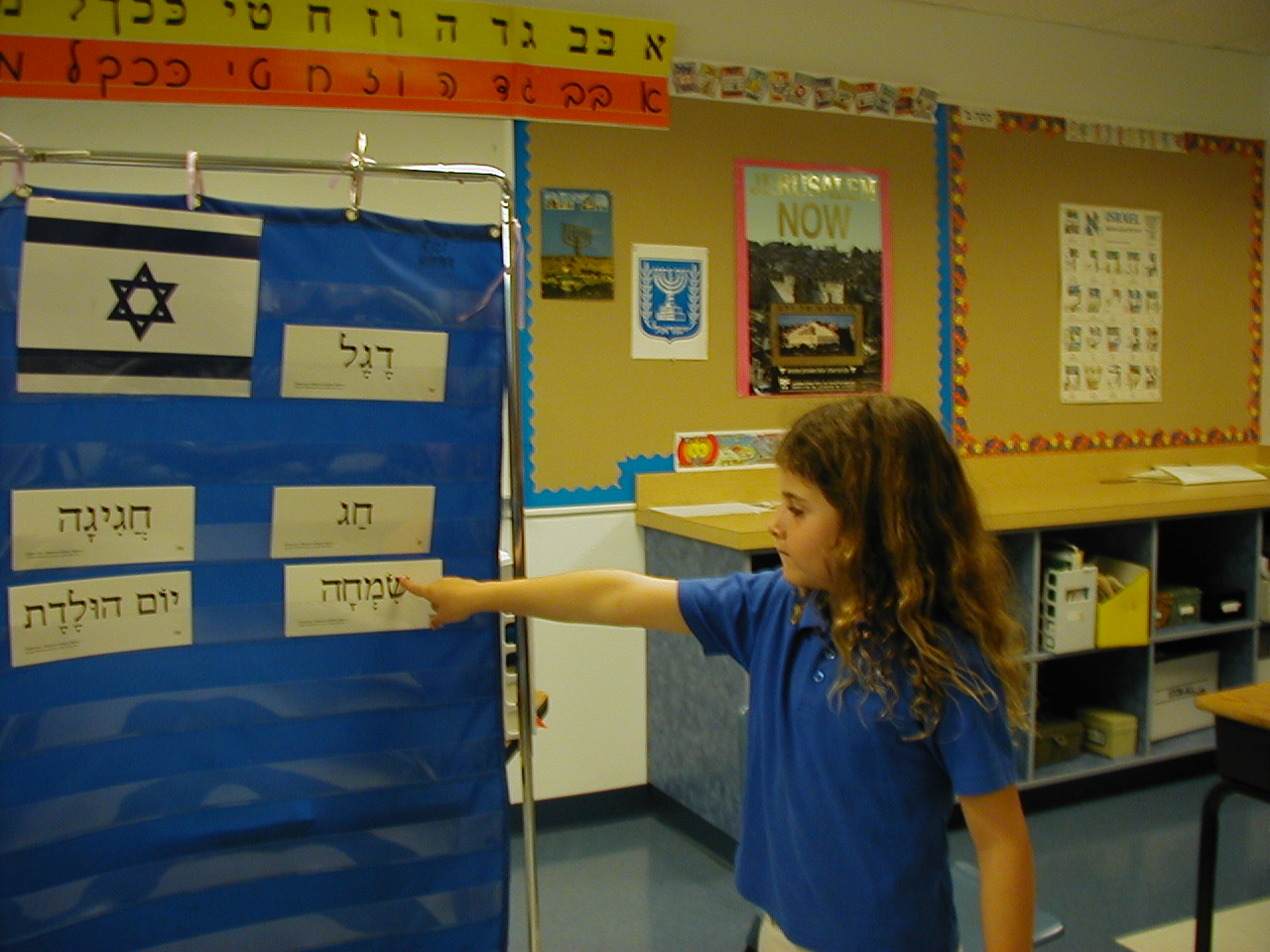 On page 9 of History of the Jewish People, Vol. 2: The Birth of Zionism to Our Time (grades 5–7), the "Then and Now" exercises challenges students to consider what they would have done if they had lived in Russia in the late nineteenth to early-twentieth century. Many Russian Jews moved to the Land of Israel. Ask students to find out their own family's history. When did they come to America? Did any family members immigrate to Israel? Do they have any relatives living in Israel now?
6. Celebrate the Whole Year Through.
How To: Yom Ha'atzma'ut falls on the 5th of Iyar, but you can celebrate Israel the whole year through!
Help students and parents form an Israeli Soccer or Basketball Fan Club. Fans can watch games together throughout the sports season (check out the Maccabi Tel Aviv fan on page 101 of Welcome to Israel!).

Encourage students to create a monthly Israel Update Newsletter—paper or HTML—to send or email home. The newsletter might include news updates, funny stories, or little-known facts about Israel—did you know that Israelis created the technology for AOL's instant messenger? Direct students to online Israeli news sources for material.
Think BIG: School may be out for summer, but lessons about Israel don't need to stop.
Encourage students and families to continue to think about Israel, talk about Israel, celebrate Israel, and maybe even visit Israel!
Text-Based: Israel Always
In honor of Yom Ha'atzma'ut, let's make sure to celebrate and to celebrate big—with dynamic curricula, school-wide activities, year-long events, and, most importantly, ahavat Yisrael—the love of Israel.