APPS for your iPhone, iTouch, & iPad
Hebrew in Harmony
For your iPad and iPhone.
A groundbreaking way to teach Hebrew prayer — through music.
Hebrew in Harmony is a three-year Hebrew curriculum for 4th-6th graders that uses the power of music to engage students with prayer.
Long used to beautify the words and acts of prayer, music creates a safe and welcoming environment rich with opportunities for learning. Rooted in music, Hebrew in Harmony encourages students to create meaning from personal prayer and make emotional connections through communal prayer. The flowing words help students learn Hebrew through the music.
Educators can select from among 22 individual modules — each devoted to a different prayer — and teach them in any order. Featuring music from today's top Jewish musicians, along with arts, movement, video, and a full digital learning experience, this multimedia curriculum invites students to learn to sing and pray in Hebrew, as well as read, explore, and interpret prayer text.
---
Shalom Hebrew
For iPhone, iPad, and Android devices.
Practice Hebrew at home or on the go — on any of your devices!
Vowels talk, letters dance, and students can swipe words across their screens with this new Hebrew app based on our bestselling Shalom Uvrachah and designed for use with all of the Hebrew primers, including Shalom Uvrachah Express and Shalom Hebrew! It can also be used as a Hebrew learning tool on its own.
Packed with engaging features, interactive reading exercises that can be recorded and reviewed by educators, and more than a dozen Hebrew games, Shalom Hebrew OLC App makes learning to read Hebrew fun and effective for students of all ages, including those who have started their studies in later grades.
---
Augmented Reality
For your iPad, iPhone, and Android products 4.3 and higher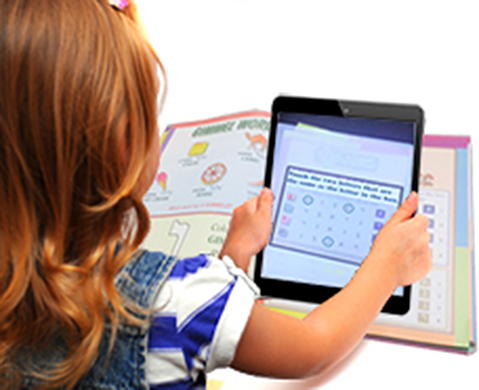 Help students interact with the printed pages from Let's Discover the Alef Bet using the new Augmented Reality App from Behrman House.
Kids will watch the pages come alive with help from the camera on their mobile device or tablet to activate digital elements in the popular folders that introduce the Hebrew letters from Let's Discover the Alef Bet Folders Bet, Dalet, Yud, Shin, and Tav.
Point your tablet or mobile device at the Let's Discover folders:
• Watch Hebrew Letter introductions
• Touch the Hebrew letter to hear it's name.
• Touch the object to hear the Hebrew word for it
• Instant feedback with sounds and augmented images
• Play activities by touching letters, finding Jewish objects, or dragging virtual elements
Augmenting Reality Let's Discover the Alef Bet will enhance your preschool Hebrew curriculum by stimulating and engaging kids like never before.
---
Hebrew Karaoke
For your iPad and iPhone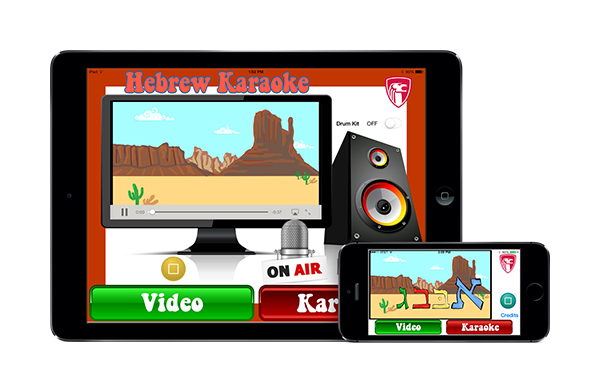 Mama Doni has written a new alef bet song and YOU are invited to sing along
Watch the alef bet letters dance in our brand new Hebrew Karaoke app, now live in the Apple app store for iOS versions 7.0 and above. When you've learned the song, switch to karaoke mode and sing along. You can sing along with Mama Doni and her Band, OR perform solo with the band as your back up.
You can even record your performance and email your recording to friends and family! You can also save your emailed file on a computer to share on Facebook or in the Online Learning Center.
Mama Doni's Hebrew Karaoke is available FREE for iPhone and iPad. On the iPad version, you can even add your own sound effects with a personal drum kit!
---
Unlimited Alef Bet
For your iPad, iPhone, and Android devices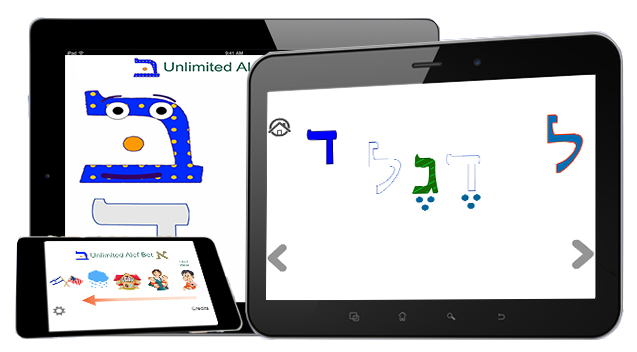 Want a fun way for your child to successfully learn to decode the Alef Bet? Behrman House's newest interactive mobile app for the iPhone, iPad, and Android devices introduces young children to Hebrew letters and simple words.
Kids will enjoy matching letters to create Hebrew words. With talking animated words, children will begin to associate the sound with the letter and the words it helps to build. A fun and free game, Unlimited Alef Bet helps children learn to decode Hebrew letters, vowels, and words.
Unlimited Alef Bet is available on the Android and Amazon Stores and is now available in the iTunes store. Unlimited Alef Bet is also a great digital supplement to Let's Discover the Alef Bet for children in kindergarten or 1st grade, and Shalom Alef Bet for children in 2nd and 3rd grade.
Unlimited Alef Bet was designed with younger children in mind - there are no high scores, failures, limits, or stress. Your child can interact with the app at his or her own pace. With this stress-free game, Hebrew decoding success is on its way!
Frogs in the Bed
For your iPad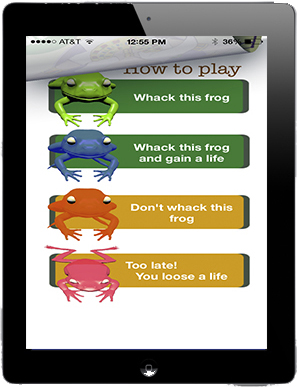 Frogs in the Bed
Published by Behrman House
Passover plagues are here in Frogs in the Bed.
Whack as many frogs as you can as fast as you can.
If you think pharaoh went crazy from all the plagues, just wait until you try smacking all these frogs.
With this free app you can play individually or see how you compare to other frog catchers.
Learn more or download from the App Store now!
---
NEW: Kol Yisrael: Batya's Bubbles and Blessings App
For your iPad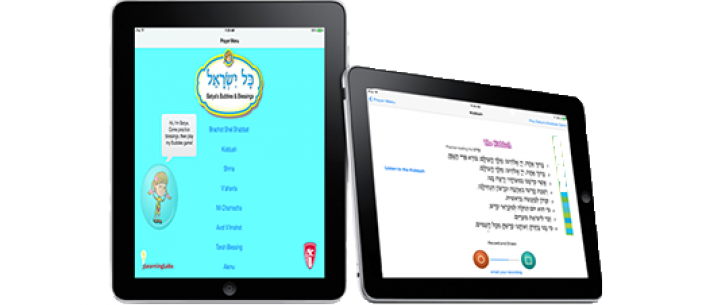 Kol Yisrael, Volumes 1, 2, and 3
Published by Behrman House
This Free app allows you to play, listen, and record eight blessings and prayers from Kol Yisrael volumes 1, 2 and 3 through an interactive game.
Batya's Bubbles and Blessings supports your use of the Kol Yisrael Hebrew program to practice prayer reading, skills, and to review the prayers from all three volumes of Kol Yisrael.
Kids and adults are able to record themselves while reading, chanting, or singing the prayers and blessings and have the option to email the recordings to anyone. The recorded files can even be played on iTunes.
Learn more or download from the App Store now!
---
NEW: The Natural Bible iBook
For your iPad, and now also for Macs running Mavericks
Encyclopedia of Judaism & the Environment
Written by Baruch Sienna - Published by Behrman House
The Natural Bible is an exploration of nature as a symbol and its connection to the Jewish calendar, plus an extensive resource on the actual flora of the (biblical) Land of Israel.
Perfect for Tu BiShevat learning, nature lovers, Bible study groups, and anyone encountering an unfamiliar biblical plant (whether on a hike in Israel or reading the weekly Torah portion).
This iBook breaks new ground in the field of Jewish environmental studies. Take it with you, highlight text, take notes, and bookmark favorite passages. Search for specific text and tap the audio icon to hear Hebrew titles. Also contains a built-in glossary and index, multimedia, and hypertext links.
Learn more or download from the iBookstore now!
Read Bookjed's review of The Natural Bible
FREE! Dreidel Labyrinth
For your iPhone
Dreidel Labyrinth: A Free Game Center Game for Hanukkah
A new take on a classic favorite. Collect gelt by navigating a ball through the labyrinth and using the pinwheel to spin the dreidel. Collect and bet your gelt as you compete against other players on game center. Play in a different labyrinth for each letter on the dreidel and earn an achievement for each labyrinth board you complete.
Playing dreidel has never been more fun!
---
iMah Nishtanah
For your iPhone
Be ready for the Passover seder this year! Learn or practice the Four Questions with your own interactive Mah Nishtanah.
Touch-n-Read technology lets you hear each word as you read along. Or press chant to listen to the full melody and sing along. Record mode makes it easy to hear how you are doing. Play your recording anytime for your friends, parents, teachers or just to hear how you sound. A full translation is included and interactive flashcards and picture based activities help you learn the meaning of the Hebrew.
---