Free App Offers New Ways to Practice Hebrew with Kol Yisrael
Written by Behrman House Staff, 21 of February, 2014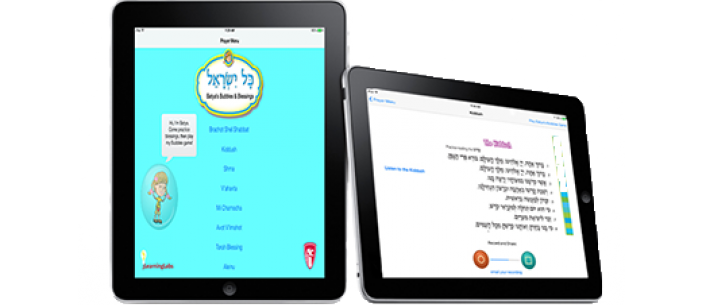 This free game and practice app lets students hear, practice, and record eight blessings and prayers from Kol Yisrael volumes 1, 2 and 3 on iPad.
Batya's Bubbles and Blessings supports your use of the Kol Yisrael Hebrew program to practice prayer reading, skills, and to review selected prayers from all three volumes of Kol Yisrael.
Kids and adults are able to record themselves while reading, chanting, or singing the prayers and blessings and have the option to email the recordings to anyone. The recorded files can even be played on iTunes.
Download Batya's Bubbles and Blessings now
Find out more about Apps from Behrman House
About the Kol Yisrael series:
Your Hebrew classroom will never be the same now that your students can see the characters in their books come to life and help them learn prayer. In the first level of this three-year, full-color series, students meet Batya and Ben, their companions and guides for the entire series. Along with Doug, their talking fish, Batya and Ben leap off the page and come to life on your students' computers in a fun-filled learning adventure that keeps students moving and motivated. Students go back and forth from textbook to online games and exercises. The fully integrated digital application will capture your students' imagination--and attention--with animated characters and Hebrew video games. Students will enjoy learning Hebrew!
In Kol Yisrael 1 students learn key blessings and prayers to use at home, such as the Kiddush and Mah Nishtanah. In Kol Yisrael 2 students learn about community through the opening prayers in the Shabbat morning service and the Amidah. In Kol Yisrael 3 students prepare to become b'nai mitzvah with the Shabbat morning Torah service and concluding prayers. And as your students grow from 4th grade to 6th, Ben and Batya will grow with them.
Kol Yisrael offers the most up-to-date learning tools, including online video games, and interactive readings in which students can hear the prayers read aloud, in American or Israeli accents. "Clues to Cyberspace" motivate students to use the software at home - creating additional practice time and opportunities. It's like having an in-home tutor for every child!
With Kol Yisrael, students will be able to:
Read and understand blessings and prayers. A dual focus on home observance and b'nai mitzvah prep ensures students can participate comfortably in both home-based and synagogue-based rituals.

Experience dynamic Hebrew learning in a multi-media environment. Students move from the book to computer-based reinforcement exercises and games, then back to the text. Clues planted throughout the book motivate students to solve Hebrew puzzles online and score bonus points. Students will spend more time on practice without using up precious class time.

Hear the prayers recited in American and Israeli accents. Interactive online audio exercises let students check their pronunciation to develop real reading fluency.

Work from any location. The digital exercises in Kol Yisrael are now available "in the cloud" through the Online Learning Center. They are available from anywhere with an internet connection - no more CDs!

Have fun while spending more time on Hebrew. Educators tell us that when students use interactive software they want to practice their Hebrew at home, creating additional precious instructional and practice time.
Get more Hebrew practice with the new Kol Yisrael Funbook! Recommended for grades 4-6.
This new workbook, by Dina Maiben, provides supplemental activities in a lively 80-page format that help students build fluency in reading and develop their understanding of the meaning of 26 prayers and blessings. Matched to specific lessons in the Kol Yisrael series, these exercises can also be used in conjunction with prayer materials from other series, or with your own materials.
The Funbook was designed with flexibility in mind. Students can use it individually and at their own pace for reinforcement, and it also works well for pairs and small groups,with instructions that are build right into the book.
Students can improve their prayer fluency and understanding—all while having fun playing Hebrew games and puzzles. You can order the Funbook here.