Creative Jewish Educators Series: Storyteller Cindy Rivka Marshall
Written by Behrman House Staff, 26 of August, 2013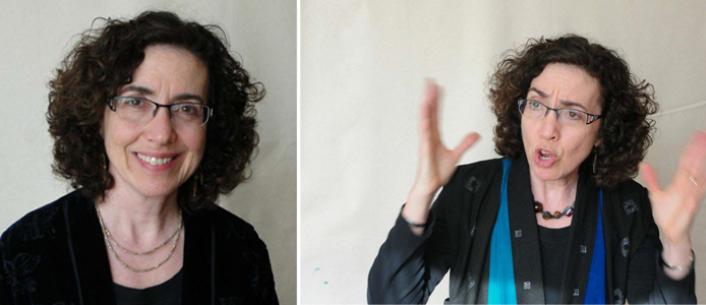 Cindy Rivka Marshall is a professional Jewish storyteller and organizational consultant. She travels widely, offering storytelling programs and workshops for all ages. Her dramatic and interactive renditions of stories resonate with a sense of wonder and respect for all.
Why is storytelling important in Judaism and Jewish education?
The spoken word and storytelling is at the heart of Jewish tradition. We pass along our heritage to the younger generations through the telling of our stories. Considering the stories in the Torah, the Midrash, the legends, the Hagaddah, the Purimspiel, the folktales and literary works - Jewish educators have rich resources to draw upon! Stories are a wonderful way to teach children about holidays, Jewish values, and how to be a good human being in the world.
When a story is told, a special dynamic occurs between the teller and the listeners. They are co-creators of the story in that moment, as it lives in each person's imagination, and in their shared experience. A story that evokes symbols and metaphors and sensory imagery allows the listeners to travel to a deep place within, to open their hearts, to make meaning.
How can teachers bring storytelling into their classes?
I believe that storytelling goes hand in hand with being a Jewish educator. If I want to teach about a particular Jewish value, I carefully select or craft stories to suit that occasion. For example, if I am teaching about the Jewish value of Gemilut Chasadim (acts of loving kindness), I might tell a Jewish folktale in which a character comes to a realization about having compassion for others, and then I would facilitate a discussion in which the students can draw personal connections to the characters in the story. Or there might be activities that could spin off of the story, like a skit or an art project or a community service project.
I teach educators how to let go of reading from a printed page, not to memorize, but to know the story so they can tell it in their own words. I coach people to open up their physical gestures and facial expressions, the dynamics of their voices and to look into the eyes of their listeners. Storytelling does not rely upon a fixed script like in theater, it is all about relationships and interactions.
There are all sorts of ways to tailor stories for different age groups, inviting participation on various levels, whether it is with refrains and gestures for younger children, creative drama or challenging questions for older children.
One of the beauties of storytelling is being able to respond in the moment to one's listeners. Teachers who have an ongoing relationship with their students are well positioned to tell a story in a way that their listeners will understand it best.
Watch a video of Cindy telling a Jewish legend about King Solomon and how the hoopoe birds got their crests.
More About Cindy Rivka Marshall:
Cindy Rivka Marshall was an invited presenter and performer at Limmud UK in Coventry, England, a featured performer at Riverway Storytelling Festival, and a workshop presenter at numerous conferences nationally. She does professional development and consults with organizations using story eliciting and listening to facilitate learning, to build a sense of community and appreciate diversity in synagogues and schools. In the Boston area she consults with the BIMA and Genesis summer programs at Brandeis University, Gann Academy, and with synagogues through Jewish Learning Connections of Combined Jewish Philanthropies.
Her recordings include "Challah and Latkes: Stories for Shabbat and Hanukkah" which received a Storytelling World Honor Award and a National Parenting Publications Award and "By the River: Women's Voices in Jewish Stories," winner of a Parents' Choice Recommended Award. Her work appears in the collection, "Mitzvah Stories," a finalist in the National Jewish Book Awards. Marshall lives in the Boston area, and runs the Dancing Tree Story Workshop in Needham, MA where she offers workshops and coaches storytellers. For bookings, workshops, and recordings see www.cindymarshall.com.
Further resources:
Cindy highly recommends "The Jewish Story Finder: A Guide to 668 Tales Listing Subjects and Sources" by Sharon Barcan Elswit.
The Jewish Storytelling Coalition, a national network of Jewish storytellers with an online directory, can be found at www.jewishstorytelling.org.
Explore Jewish values through 8 classic folktales and midrashic stories:
Evolving from the oral tradition that gave us Torah and Talmud, folktales illuminate and reinforce the lessons of our heritage. We tell them to entertain our children, and also to pass on our values.
It's Too Crowded in Here! is a collection of Jewish folktales and midrashic stories in this spirit, enlivened by colorful illustrations. While they are fun to simply read aloud with children, the stories also provide a rich yet light-hearted resource for exploring key values such as self respect, compassion, appreciation, tolerance, and thankfulness.