Foodie Connection: The Way to Our Kids' Jewish Hearts May Be through Their Stomachs
Written by Behrman House Staff, 17 of January, 2017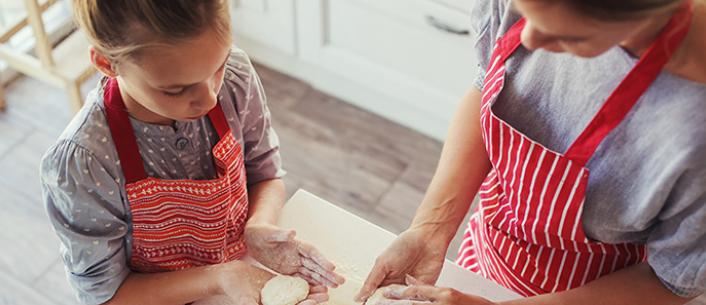 Food has always held significance for Jews beyond the basics of sustenance. Spiritually, ritually, and culturally, the foods we eat (and those we choose not to) as well as the way we acquire them, cook them, serve them, and share them help define us, distinguish us, connect us.
Food is a medium relevant to our learners, sparking interest and enthusiasm whether the goal is to help them discover Israel, encounter global Jewish culture, establish ritual practices, unearth some Jewish history, celebrate holidays, undertake social action, or simply enjoy one another's company.
We invite you to consider two compelling resources to help you add Jewish food to your educational menu.
Explore the connection between Jewish values and the choices each of us makes about food. Our new course, Min Ha-aretz: Making Meaning from Our Food comes from Hazon, the Jewish environmental organization, and is designed especially for 10-12 year olds.
The intention of Min Ha'aretz is to promote an awareness of contemporary food issues that is infused with Jewish values and traditions, create a Jewish framework for healthy food choices, and illuminate opportunities for learners and their families to manifest their own Jewish, health, and environmental values and priorities by taking action based on the ideas they learn.
This course uses classic texts as a starting point for examining the food dilemmas of our time, including how we grow it while sustaining the earth, how we choose what we eat in the context of food justice, compassion for animals, and our own health. Instructions and materials lists are included for a variety of investigations, experiments, and mindful practices, such as transforming wheat berries into flour and making bread, debating the merits of sh'mita (resting the land), calculating the sugar in some common drinks, and eating an apple or other food very slowly and with deep awareness to gain an appreciation and gratitude for food we have.
The lesson plan manual provides a basic structure for twelve learning encounters, guides to enrichment options such as trips to local food purveyors, and instructions for a variety of creative ways to help 10-12 years olds engage in thoughtful text study together. A list of relevant texts for each topic is included, and a final project will give your learners the opportunity to bring all their learning together. The student journal serves as both a guide and a portfolio to demonstrate evidence of learning. The Min Ha'aretz course will help you link every day eating with Jewish tradition and values, spark family conversations about food, and tap into your community's interest in food and the environment and stimulate 'greening' efforts.
In addition to the student journal and teaching guide, an online resource page provides recipes and additional links, while pre-course and post-course surveys (also available free on our resource page) will help you demonstrate learning.
For families with children of all ages we suggest a series of seasonal food-based programs and events based on Tina Wasserman's Entrée to Judaism for Families: Jewish Cooking and Kitchen Conversations with Children, which combines simple yet delicious recipes for holidays, Shabbat, and family meals with activity suggestions and conversation starters that pique interest and put the focus on the Jewish culture in the food. Holiday cook-offs and tasting events bring families together while learning about the Jewish origins of the ingredients and recipes.
Each recipe in the book is essentially a mini-lesson in connecting to Jews and Judaism at home and around the world, beginning with a short description of the recipe's history and the community that created it. "Kitchen Conversations" accompany each entry and provide the spark for conversations on a multitude of topics, including food ethics (food sourcing and sustainability for example), Jewish geography (the Jewish foods of Greece, distinctive shape of challah in North Africa, the history and travels of schnitzel), connection to Israel, family food traditions, immigration and food, and hiddur mitzvah, the commandment to take time to create something special as a way to honor God. "Tina's Tidbits" for each item provide practical advice about food handling and cooking with children to make family experiences fun, safe, and flavorful.
See how one congregation in Maryland got funding to launch a full year family education program based on Entrée to Judaism for Families.