Give Your Students a Quick Link to FREE Hebrew Practice
Written by Behrman House Staff, 01 of October, 2013
The school year is underway and you have just eight weeks before the big Thanksgiving/Hanukkah holiday weekend. How would you like to give your students and families a quick link they can use to get access to free online practice reading Hebrew? Would you like them to learn how to order ice cream, count, or say please and thank you in Hebrew? It's easy and free at behrmanhouse.com/students. No sign up required.
Try Click and Read for learning the basics.
Try Click and Pray to hear, read, and practice any of 42 prayers and blessings, plus the Four Questions.
Try Ulpan Alef for some fun basic modern Hebrew vocabulary.
And now, Reconstructionist versions of eleven blessings and prayers are also available.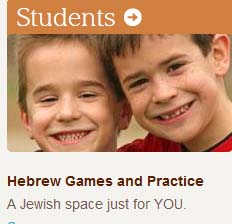 You can find free online Hebrew anytime, right from our home page from any computer with an internet connection. Just look for the orange STUDENTS button. Or give your families a quick link to free Hebrew practice right from your school or synagogue website.
Just add www.behrmanhouse/students as a link on your synagogue or school page.
We also have apps for iPhone and iPad for Jewish learning and stories on the go. COMING LATER THIS YEAR: Apps for Kol Yisrael and Hineni!