How to Get the Most from Our Catalog
Written by Behrman House Staff, 17 of July, 2017
You need quality materials for yourself, your students, and your families. Use our annual catalog to find what's right for you from among our 1,296 titles.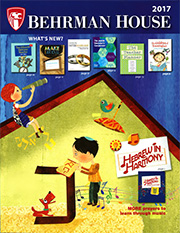 Here are some tips to getting the most from catalog:
Start with out pull-out Hebrew and Judaica planners. These handy guides each let you see at a glance the full range of titles we offer for each grade level and subject. The guides also direct you to page number for each title, a feature back by popular demand. The planner is perforated, so you can rip it out and hang it up for each reference.
Find all new materials in the front. On the first 20 pages, you can read all about our newest releases, including:
- Classroom materials such as the Hebrew in Harmony prayer curriculum, prayer and Hebrew supplements Making T'filah Meaningful and Ten-Minute Hebrew Reader
- Teacher resources like The Jewish Educator's Companion and The Teacher Planner
- Family and home resources such as The Family (and Frog!) Haggadah, Inside Intermarriage, The Jewish Home; coloring books
- A Bar/Bat Mitzvah journal to bring out your creative side
- Beautiful storybooks from our Apples & Honey Press imprint
Use the colorful stripes across the top of each page to find your subject more easily. The catalog is divided into the following sections: New Releases, Apples & Honey Presss, Jewish Heritage, Family and General Interest, Ritual and Practice, Adult Study, Hebrew, and Resources.
And new this year: A section on available B'nai Mitzvah resources.
Search for specific titles in the back. The back of the catalog has an index - both alphabetical by title and by subject - that lead you to in-depth book descriptions and sample pages.
Turn to the inside back cover for all the information you need about orders and returns.
Don't have our catalog? Request your free print catalog here or call us at 800-221-2755.You can also access it online at any time.
To place your order, visit our online store, email Customer Support, or call the above number. Have your titles and/or SKU numbers available and we'll happily help you.