kidSAFE® Certification for the Online Learning Center
Written by Behrman House Staff, 03 of December, 2013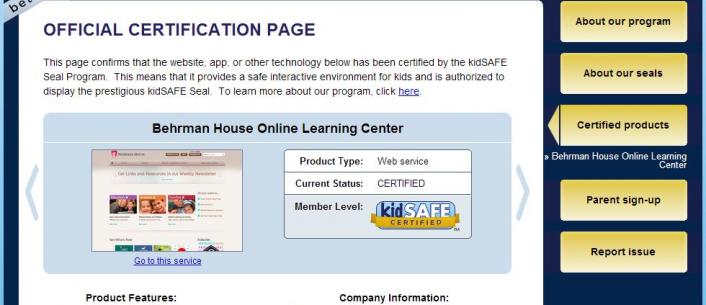 We're delighted to announce that the Behrman House Online Learning Center (OLC) is certified by the kidSAFE® Seal Program.
The kidSAFE® Seal Program is an independent certification service and seal program that reviews and certifies the safety practices of children-friendly websites and applications, including kid-targeted game sites, virtual worlds, social networks, PC and mobile apps, web-connected devices, and other similar online and interactive products.
"We developed the Online Learning Center with strict attention to the requirements of the Children's Online Privacy Protection Act," said David Behrman, President and Publisher. "It's gratifying to have the platform recognized in another way that can give parents additional confidence about their children's safety on our site."
The Online Learning Center features private online classroom, discussion, practice, and play spaces that allow teachers and students 'anytime, anywhere' access to a variety of multi-media materials and experiences that support Jewish learning and community. More than 1,100 teachers and over 7,000 students across North America are engaged in active Jewish learning using the OLC.
The Online Learning Center has been added to the certified kidSAFE® directory, the first and only directory of kids' websites and apps that have been independently tested and certified to meet a high standard of online safety.
Click on the seal or go to www.kidsafeseal.com for more information about the program.

Want to find out how to safely involve your students in online learning? Contact us.