Middot-opoly: The Educational Jewish Values Trading Game! *Free Download*
Written by Behrman House Staff, 13 of October, 2013
The Price of Good Values

by Joy Getnick, PhD

Jewish Program Director

JCC of Greater Rochester (Rochester, NY)

Camp Seneca Lake (Penn Yan, NY)
Like so many other Jewish educators, I struggle to find creative and interactive ways for my "students" – campers at a JCC transdenominational residential summer camp located in the beautiful Finger Lakes of Central New York – to connect with Jewish values and tradition. My campers love games, and sometimes if we finish an activity early we play Schmear: Build-a-Bagel Card Game, or the Jewish versions of Taboo! and Apples to Apples. But these games are more fun than educational, and none focus on Jewish values and mitzvot.
Middot-opoly was my solution. With the help of an incredible graphic designer, Lyndsay Thomas, I was able to turn my dream into a reality. Each property is a Jewish value or virtue. Most come from Pirkei Avot's list of forty-eight virtues. Instead of buying properties, campers "buy values," so to speak, and then race to buy up as many values as they can. Instead of jail, campers may find themselves in the meditation center, taking some time out for personal reflection, or they may pass by "stop for a nosh," the equivalent of "free parking." Chance and Community Chest are adapted to highlight Jewish holidays and values, as are the railroads, utilities, luxury tax, etc. Directions highlight a shorter version of Monopoly, more suitable for a classroom or camp setting, where each participant starts with three properties distributed at random to give the game a jump start. Although no Hebrew reading is required, the game features English and Hebrew with vowels in order to help reinforce language development organically.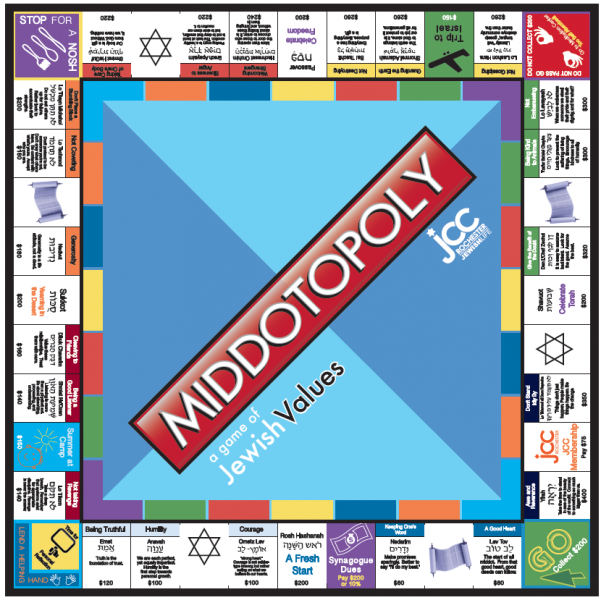 I've also used the game as part of staff training. Not only does the game help reinforce the values and virtues we hope our young staff strive to instill in our campers, but the game also helps remind staff that all of these common sense values and virtues – being a good listener, keeping one's word – are also Jewish values, highlighted in ancient texts and traditions. The game helps me start the quintessential conversation about what Jewish living can look like beyond kashrut and Shabbat, and how we at camp can help inspire and develop positive Jewish identity in our campers through daily camp life.
Yet let's be honest. There's something sort of odd about "buying values." Furthermore, the way Monopoly is designed, some values are valued more than others, as in they are bought and sold at higher rates. To a degree, the order of the values on the Middot-opoly board is a bit subjective. Is slowness to anger better than generosity? Who's to say! Yet in other ways I did try to use Jewish teachings to help frame my choices, giving values that our Jewish tradition more heavily emphasizes (being kind to animals, not standing idly by) a higher ranking. I always mention this subjectivity in my introduction. It's interesting to consider: what is the price of "good" values? If you were to shuffle around the game pieces, what would you do differently?
I hope this game will be of use to other Jewish educators looking to start meaningful conversations about Jewish values and contemporary Jewish living. Enjoy!
Download Middot-opoly for free!
Joy Getnick and the JCC of Greater Rochester have kindly shared all of the game files you need to create your own Middot-opoly game! In addition to printing and assembling the game board and cards provided below, you will also need to collect some playing pieces and play money. NOTE: The game board prints best when you set it up as a poster. It will print in six segments on separate sheets that you can tape together. It is high resolution, so you can print a giant board using six 11x17" sheets.
Got a game or creative idea to share?