New Direct Access to Hebrew in Harmony Music
Written by Behrman House Staff, 17 of January, 2017
Rooted in music, Hebrew in Harmony encourages students to create meaning from prayer. Each of the prayers in the program features music from today's top Jewish musicians - along with arts, movement, mindfulness, videos, and a full digitial learning experience.
The music forms an ESSENTIAL element of Hebrew in Harmony, and you can now enjoy direct access to the music - free for a limited time.
Stream the music right from the web or download it to your ipod or ipad.
It's music that empowers students to make a spiritual connection with the words of the prayers. When the student journals or educator lesson plans say to listen to the music, simply press play and let the music work its magic.
How to access the Hebrew in Harmony music
If you're not in the digital companion:
In the digital companion:
Click the cloud icon.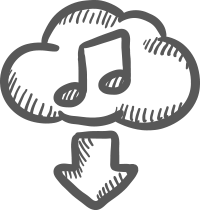 Simply choose the prayer and music you want to hear, and enjoy!