School & Publisher: Crafting an Effective Online Partnership
Written by Behrman House Staff, 23 of May, 2014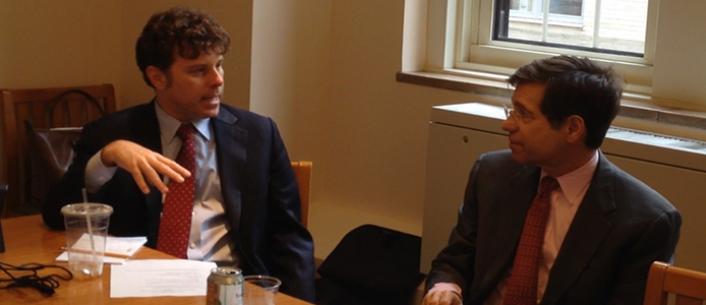 Congregation Emanu-El of the City of New York was an early adopter of the Online Learning Center, and continues to be an active "power user" of the platform to support its Hebrew program. The relationship between Emanu-El and Behrman House has become exceptionally strong. I asked Saul Kaiserman, Director, Lifelong Learning, to reflect with me on what has made the relationship so successful, so that we can build on it in developing all of our relationships with OLC members across the country. --David Behrman
By Saul Kaiserman & David Behrman
Two years ago, Congregation Emanu-El adopted the Behrman House Online Learning Center to implement and support its primary Hebrew curriculum. Emanu-El and Behrman House have collaborated very effectively to develop a system using online materials from home to build on strong in-person learning.
This collaboration has been fostered by a common culture of ongoing professional learning and innovation. Both Behrman House and Emanu-El continuously seek to improve curriculum administration, promote excellent communication (both internally among staff, and externally with students, parents and colleagues), and implement strategies for effective program management. Our organizations share a similar vision of the benefits of digital education. As a result of our collaboration, we identified possibilities for new OLC features , some of which will launch this summer to further enhance the OLC and provide additional benefits for all users.
We hope that our learning from this relationship and the best practices that have grown from it can guide other congregations to similar success. So here are some of our reflections on what makes it work:
· Shared vision. We share a vision for blending on-line learning with in-person instruction. We believe in the intrinsic value of community and the importance of face-to-face interaction. We celebrate the irreplaceable role of the teacher-student relationship and the ability of great teachers to tailor learning to the needs of each individual student.
· Conviction about practice. We also believe that repeated, short, and frequent practice plays an important part in developing mastery. (Find out more about the value of "distributed practice" in this short video featuring Saul, Emanu-El's Hebrew Technology Coordinator Ellen French, and series author Dina Maiben.)
· Belief in the value of fun. We share a desire to create a Hebrew learning experience that is both engaging and fun.
· A team-based approach with a commitment to results. Our respective teams want the full benefit of this program for all students, as soon as possible. Both organizations recognize that new initiatives, especially ones that have a large technology-driven component, take time to develop and usually come with a few bumps. So when an issue comes up, we respond to it together and resolve it. We avoid 'gotchas' and defensiveness by working collaboratively to diagnose the issue, consider solutions, implement them quickly … and move on.
· A dedicated coordinator. We each have a single point person in our organization who serves as the primary contact both for those inside each institution and for communicating between the two. It's Ellen French at Emanu-El, and it's David Schwarz at Behrman House. Ellen fields questions and concerns from Temple Emanu-El teachers, parents and students, and coordinates with David to get answers, implement new processes, and resolve any issues quickly. To see more of the benefits of having a single point person, see this quick Prezi.
· Ongoing communication. Maintaining open lines of communication, with strong, active listening on both sides, keeps minor issues or uncertainties from becoming problems.
· Always being forward-looking. Every assessment looks toward improvement. Rather than ask "whose fault was this?" our respective teams both believe in asking "what is already working, and how could things be changed for the better?" This focus helps us refine processes and practices that work, and keeps us all on a path of continuous improvement.
Overall, our constant, open give-and-take has been a hallmark of our work together, resulting in a highly successful collaboration. Our partnership has not only led to a successful implementation of the Online Learning Center at Emanu-El, but also to improvements to, and expansions of, the OLC itself.
Want more information about bringing the OLC to your organization? Get in touch!