Strong Lift Off for the Online Learning Center
Written by Behrman House Staff, 29 of August, 2012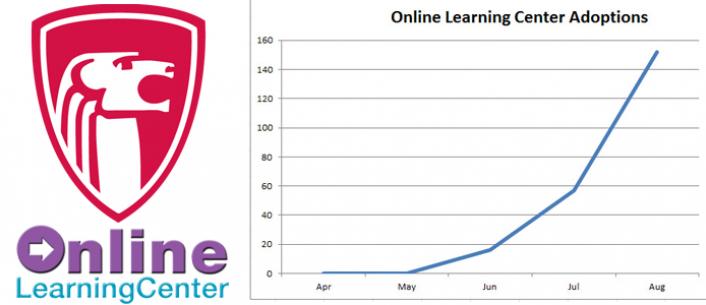 Over 180 religious schools so far are adopting the Behrman House Online Learning Center to engage students in blended learning programs for Hebrew and Jewish studies this fall. What's more, another 250 educators have been authorized as Educational Directors in the OLC to test it out for their own schools.
The Online Learning Center is helping schools provide anywhere/anytime access to animated multimedia exercises, games and activities--free of CDs, and well beyond static fill-in-the blank online workbooks. It's a creative tool teachers can use to energize students about their Jewish learning and help keep parents in the loop. This private, personalized, easy-to-use online space provides a cheerful Jewish environment for learning.
Barry Amper, Education Director at Temple Or Elohim in Jericho, NY, was one of the first educators to make the decision to move his school into the OLC this year. "It's exciting. We're committed to being forward thinking about the education we offer our students."
Educators are adopting the online Hebrew programs, including Ready, Set Go Alef Bet, Alef Bet Quest, and Kol Yisrael: The Prayers of Our People. They are also trying out brand new multimedia options for experiential Jewish values and Jewish identity programs. Later in the year, these educators will also be able to have their students record Hebrew reading assignments right online, to review and assess at their convenience. See a full list of the content available in the Behrman House Online Learning Center.
Michael Dreyfuss, Inclusion Specialist, University Synagogue, Irvine, CA, is looking forward to working in new ways with his students using the OLC this year. "This program proves there are fun ways to learn Hebrew beyond a book. It was so different when I was in Hebrew school myself. This is interactive and will engage all kinds of learners."
And the OLC fosters creativity in ways that go well beyond Hebrew practice.The flexibility and features of the OLC platform itself helped Sarah Gluck, Co-Director of Religious School at Temple Beth-El in Hillsborough, NJ make up her mind. "I am especially pleased to see how much thought has gone into the underlying values behind the development of the OLC. My head is spinning with possibilities… and questions. I am very excited about what we might accomplish next year in our school."
Educators and teachers alike are taking advantage of the free Weekly Webinars to learn how to use the Online Learning Center for extending class time, for planning lessons, for using multimedia materials, and for creating lively online discussions in a safe environment. "I am very excited to have the Online Center webinars as a tool to help me and our teachers learn how to enable our children to advance their Hebrew at home," said Patti Kahn, Education Director at Temple Sinai in Summit NJ. "The OLC and the webinars are a fantastic idea! I'm looking forward to learning more with Behrman House."
The Online Learning Center's flexible format works for Hebrew, Jewish Studies, parent groups, tutorials, and even adult learning and teacher training, and allows for a variety of learning modes, including blended learning, distance learning, and project-based learning. It can also help extend class time by encouraging students to log on from home. The Online Learning Center can be used with or without the learning software from Behrman House that features Hebrew decoding and reading, prayer Hebrew, Jewish values, Jewish identity, Israel, Bible, and holidays. Teachers can also upload their own materials into a class in the Online Learning Center for their own students' use.
With the Hebrew software, students have direct access to digital exercises and games that match the materials used in class. Teachers can track their students' progress using the automatic assessment features in every Hebrew lesson, and choose from an extensive library of articles, lesson plans, videos, music, assembly programs, images, and essays to enrich their students' learning.
The system is especially powerful for absent students to quickly catch up at home so they stay current with the rest of the class.
Built by Behrman House specifically for the Jewish educational environment, the Online Learning Center went live in the spring of 2012. Behrman House, established in 1921, has a long history of educational innovation and was the first to introduce digital exercises and educational gaming for Hebrew with its groundbreaking Shalom Uvrachah primer and Hineni: The New Hebrew through Prayer series over a decade ago.
Get more information about the Online Learning Center here.
Are you and Education Director ready to get authorized and set up your school? Click here to send us a message. (Be sure you have signed up and registered your email address on our homepage first!)
A new series of weekly webinars is coming beginning in September--stay tuned! In the meantime, view recordings of past webinars here.