Top 5 Tips for Integrating Technology for Successful Education Innovation
Written by Behrman House Staff, 29 of October, 2013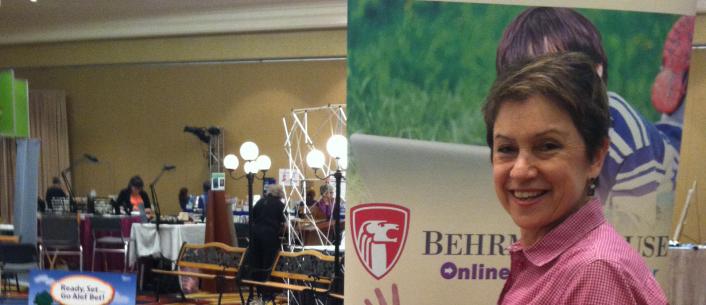 Technology is a terrific tool for those who seek innovation that helps students and teachers engage together in meaningful learning.
Terry Kaye shares five secrets of success for integrating technology into your education program, culled from her work with educators all around North America.
1. Identify why you want to introduce technology in your program. What's the benefit? Is it to improve students' Hebrew skills? Involve students who can't make it to class regularly? For students who are absent to catch up?
Once you know the purpose and what you want to accomplish, you'll be able to choose the right devices, platform, and software to meet those goals. For example, if you want to engage kids who come early to class or finish their work quickly, or if your learners work at stations, you may decide to buy iPads and load them with Jewish apps.
If you want students to practice reading and chanting prayers, you may use the Online Learning Center. And students who live far from your congregation can be included via a video conferencing platform in a distance learning program. Watch Terry Kaye on identifying needs in this 1:19 min video.
2. Invest in devices and platforms carefully—and conservatively. Often, educators painstakingly raise the money, then buy 15 iPads or 10 Smart Boards, or other cool tech tools before asking why. (Refer back to #1 above!) These tools are simply a means to an end. Terry agrees with George Couros: "If technology doesn't make the learning better, you shouldn't be using it."
Have you determined what content you'll use on the tablets? How do you plan to use the Smart Boards? We regularly hear from educators who have terrific devices and nothing to do with them. Behrman House offers some native apps—and we're working on more—but at this point the choice of good apps for part-time Jewish programs is still limited. Because so much of the current software is developed in Flash, for the short-term you're still better off with laptops.

3. Bring your board and/or school committee along. This week's newsletter features an interview with Rabbi Mark H. Levine, Education Director at Beth El Congregation, Bethesda, MD. Mark describes the value of keeping his board and committee in the loop when he adopted the Online Learning Center. Here are 4 key ways to make your board and school committee your partners in adopting technology:
Do your research. Interview other educators who are successfully using technology, follow the talk on listservs, subscribe to blogs and groups like JEDLAB for cogent and timely conversation about technology in education. Know what software and devices you need, how you'll train your teachers, what tech support you'll provide, and the costs. Present that information clearly, simply, and with confidence.

Show the benefits. These will derive from your identified needs. For example, you might say, "If we use the Online Learning Center, our learners will be able to practice Hebrew for an extra 20 minutes each work, catch up if they're absent, watch videos to prepare them for class, and post assignments online that are permanently documented."

Do a demo. There is no more effective way to convince others than to show the technology in action. Project the app on a screen, take the group inside a class in the OLC, show them screen shots of the program you'll be buying for your Smart Board.

Keep them in the loop. Communicate regularly by email, phone, Facebook, Twitter, or in person about your progress. Ask your board's advice. Get their insights. Bounce ideas off them. Who knows, you may even find a benefactor among them.
4. Bring your teachers along. This is critical. Your teachers are your learning agents. They can make or break your program. Here are 3 key ways to make your teachers your partners in adopting technology:
Get their buy-in. Acknowledge you are asking them to learn something new that they may not be comfortable with. An educator recently told us, "it takes finessing the teachers to bring them around." Help them see that you are not adding to their work load; rather build on or replace something they're already doing. For example, if teachers send homework by email, have them post assignments in the OLC instead. Above all, once they see that the children are enjoying the programs—and learning—they will be sold.

Help them develop their skills. Provide training, tech support, instructional videos, practice sessions, and teacher mentors to coach them in what works. For example, if your teachers will be using Skype for tutoring, let them practice with you as the "student," give them pointers for breaking the screen "barrier," such as using more dramatic facial and verbal expressions, and be in the room with them for their first Skype session, then provide feedback and guidance.

Provide ample tech support. Teachers need to know they have somebody to turn to for help—you, a tech-savvy congregant, the Behrman House support line, or another provider. In addition, have one or two tech-savvy and willing teachers mentor the others. Have teachers recount tech success stories at staff meetings.
5. Take small, incremental steps. You are likely hearing the word "revolution" a lot in the context of Jewish education. While big new systems are born of revolution, integrating technology into your education program is more likely to succeed with small, incremental steps than with a radical overthrow of the current model. With small steps, you'll be able to bring your board and school committee along and motivate your teachers by allowing them to experience success.
Terry thinks Ronald Fry, Professor of Organization Behavior at Case Western Reserve University, was spot on when he said in Managing Continuity, "successful, positive change requires stability… To take risks, to try new ways of doing things, or engage in wild innovation, we must hold onto something reliable."