9 ways to use Skype in Your School
9 ways to Use Skype™ in Your School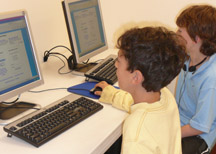 Skype™ is a software application that allows users to make free video conference calls on the Internet. Since its inception, it has become a popular tool in schools. It is an excellent resource because it allows teachers and students to visually interact from the convenience of their own homes.
Schools across the country are beginning to embrace this technology because of its simplicity and effectiveness. All you need to get started using Skype™ is:
A computer with broadband Internet access

A webcam (most laptops sold since 2008 include this feature) and microphone

Skype™ software. Download a free version of Skype™ here.
Note: everyone who will be participating in skype™ needs to download this software to their computer
Once you've installed Skype™, here are nine great ways you can use it in your school:
Conduct interactive tutorials
Some of our customers have had great success using our Hebrew materials with Skype™. Skype™ software allows schools to add Hebrew instruction time—outside of school. Schools that meet just once a week now have the availability to conduct individual home tutoring sessions with students. Did you know that with Skype™, you can view your students' computer screen? While they are running our interactive software on their computer, they can share their screen, and you can encourage your students to complete the activities. Materials that work well for this include: Alef Bet Quest, Kol Yisrael, and Hineni interactive CDs. You can even share web-based Hebrew software, such as Click-and-Read Hebrew and Click-and-Read Prayer. Both products are free with one-time sign-up.

Conduct one-on-one practice and review sessions

You can use Skype™ technology even without interactive software. Simply use the same textbook, and teacher and student can complete the lessons together. Shalom Uvrachah and Hineni are both ideal for this use. They both contain an impressive amount of Hebrew reading practice. This is ideal for Bar/Bat Mitzvah training sessions.

Host a virtual classroom
Until the end of 2010, Skype™ Beta 2.0 is free for users. This special edition of Skype™ allows up to 5 users to all be online together (Windows only). A teacher can work with up to 4 students at a time, bringing the collaboration of a classroom to the home environment.

Pair student-to-student practice partners
Encourage student-to-student interaction by using Skype™ as a conduit. Pair off your students for additional practice at home. Give your students Ulpan Alef or Let's Talk! (our Modern Hebrew programs), so they can practice conversational Hebrew while hanging out in the hammock.

Bring virtual guests to your class
As long as your guest has Skype™, distance won't stop you from inviting guests to participate in your classes. Consider inviting an author, former Hebrew school student, or a shaliach to aid your classroom discussions. And, it's an effective use of your guest's time—no commuting!

Connect to Israeli "Skype™ pals"
What better way to foster a connection to Israel with your students than by inviting Israelis into your classroom? There are many online programs available that will help your school connect with Israeli kids. www.epals.com is a great site to find classrooms from across the country who are looking to make a connection with you. The Mixxer is a free educational website for language exchanges via Skype™. Search in the groups for others looking to practice Hebrew.

Connect two classes for Skype™ -based Hebrew Challenges

Classes can work together from the comfort of their own desks. Eliminate all the hassles of switching rooms, make lessons more entertaining for the kids and more efficient for the teachers. Skype™ is an ideal tool to foster class-to-class communication. Use the computer to challenge classes to competitions testing knowledge and skill. Also, as an educator, you can observe classes and ensure your teachers are keeping up with the curriculum. It's also a great way to assess classroom participation.

Hold professional development and virtual staff meetings
Gain flexibility in scheduling staff meetings and teacher training workshops by having some staff members Skype™ in from home. You can have up to 4 participants attend meetings from anywhere using the new Skype™ Beta 2.0 software.

Host parent/teacher conferences online
Make scheduling parent/teacher conferences infinitely easier by using Skype™ software. You can accommodate parents' schedules and still have the opportunity to show them what you are doing in class with Skype™ as a video partner.

COMING SOON:
Great ways to use a Smartboard™ to engage your students