Check Student Progress in Decoding with Hebrew Reading Assessment
Written by Behrman House Staff, 31 of March, 2014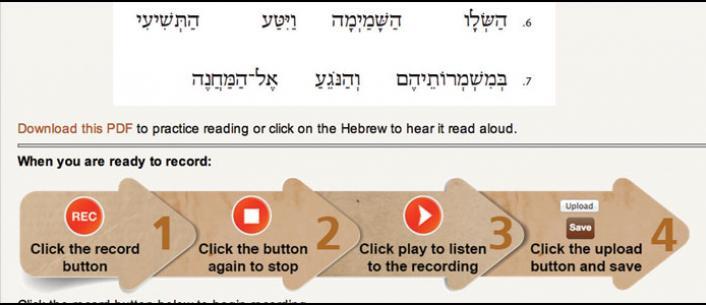 How well are your students decoding? You can help them brush up on their Hebrew skills while tracking their progress in decoding with the Hebrew Reading Assessment by Lesley Litman.
Determine what help students need and save precious class time by assessing your students' accuracy and fluency in reading Hebrew online with Hebrew Reading Assessment – Online Learning Center Edition. Students will easily be able to demonstrate their Hebrew skills with these 25 thorough exercises that allows students to record and submit from anywhere. You'll be able to listen to students' recordings anytime and leave written or recorded feedback on your own schedule.
The Hebrew Reading Assessment - OLC Edition can be used with ANY Hebrew language program to provide both formative and summative assessments of student reading fluency. This online assessment is good for 15 months, so you can begin next year with an initial placement assessment, continue with formative assessments throughout the year, do a summative assessment at year end then use it again NEXT fall to fine tune the next year's class assignment for your students. All for just $5.95 per student.
Hebrew Reading Assessment is also available as a printed teacher resource that includes a set of black line masters that match the online exercises. It's perfect for in class use and provides advice to help teachers evaluate results, target specific areas of remediation, provide constructive feedback, and craft individualized solutions to decoding challenges. We suggest one copy of the print version of Hebrew Reading Assessment per class.
How to use Hebrew Reading Assessment - OLC Edition:
The educational director creates a class in the OLC for Reading Assessment and adds one license for each student and teacher in the class.
The teacher assigns a specific exercise for assessment.
Students can log in and view each assessment exercise on screen or download and print a pdf of the exercise.
Students can also listen to a recording of each exercise online and practice by reading along.
Students can then record themselves reading the assigned exercise aloud. The may listen to their own recording and re-record the exercise as many times as they wish before submitting the recording for teacher review.
Teachers can review each student recording online, and provide written feedback that the student will see automatically in the OLC class.
Would you like a 15 minute consultation to see how to set up Hebrew Reading Assessment, OLC Edition in your school? Email us today.