The Habit of Hebrew: How Staying in Bed Helped Me Pass a Hebrew Proficiency Test
Written by Vicki Weber, RJE, 06 of September, 2017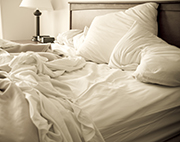 By the summer of 2014, after nearly two years of 'messing around' I had made no progress toward learning enough Hebrew to pass the proficency test that was one of the requirements of my graduate program at Hebrew Union College. I had only ten more months to accomplish my goal, and I barely knew my alef-bet. I needed a plan and a new set of habits. I had used visualization with success in the past, but this time, with a full-time job, a family, and all the work for the regular courses in my master's program, visualizing my future success was proving inadequate to the task.
Clearly I needed to get more studying done--and that required some new habits.
I had read that to create a new habit I needed to establish useful triggers, make beginning easy, and reward myself. For example, people who want to go to the gym might set out their athletic wear the night before so it's right in front of them when they wake up, then tell themselves that if they get dressed and show up at the gym, they can stay as short or long a time as they please, and then go home and do something else they want to do.
I am not good at nighttime study. I prefer early mornings. So, my plan was to get up an extra hour early, and study each morning before doing anything else. This effort would require my materials, a notebook, and a large amount of coffee. I set up my dining room table with all my supplies and books, set up the coffee pot, and went to bed, ready for the early morning.
5:00 am came much too early that next day. Dredged up from a deep sleep at the 'wrong' time, I couldn't even muster the wakefulness to get out of bed, go downstairs and push the button on the coffee maker. And I couldn't see my 'triggers'—all my neatly arranged supplies. I turned off the alarm, rolled over, and promptly went back to sleep.
Hebrew waited yet another day.
That night I moved my supplies up to my nightstand. I asked my early-rising husband to bring a cup of coffee upstairs before heading to the gym in the morning. When the alarm went off at five, the books were right there, the coffee next to them. My excuses wafted away like the steam from the coffee cup. I sat up in bed, rearranged my pillows, and told myself I just had to apply myself for ten minutes. I then proceeded to work through an entire chapter of grammar, right there in bed. By 6:30 I felt victorious as well as industrious. My reward was the newspaper and a yummy breakfast, and the sense of accomplishment from exceeding my first-day goal. The endorphins were surging!
And so began my new habit of Hebrew in bed. I could almost pretend I was sleeping late! By removing the stumbling block of getting out of bed (and yes, I know just how completely pitiful that sounds), I made it easier to do what I needed to do. With my books at eye level when I awoke, my triggers were literally in my face. And with coffee (not to mention my wonderful, coffee-procuring husband) as my ally, I could finally buckle down and get to work. My new Hebrew habit was forming.
Now I just had to keep it going.
It took these 'tricks' and more to stick to my goal of learning enough biblical Hebrew in ten months to pass my test. It's hard to undertake a new initiative and stick to it—even when the result has great personal importance. I will be writing more about creating habits and changing behavior over the next several weeks.