What I Learned from Watching a Master Teacher Use Hebrew in Harmony
Written by Terry Kaye, 14 of February, 2017
Watching the fifth-graders at United Synagogue of Hoboken, New Jersey was like a shot in the arm for me—or maybe drinking a Red Bull (not that I ever have).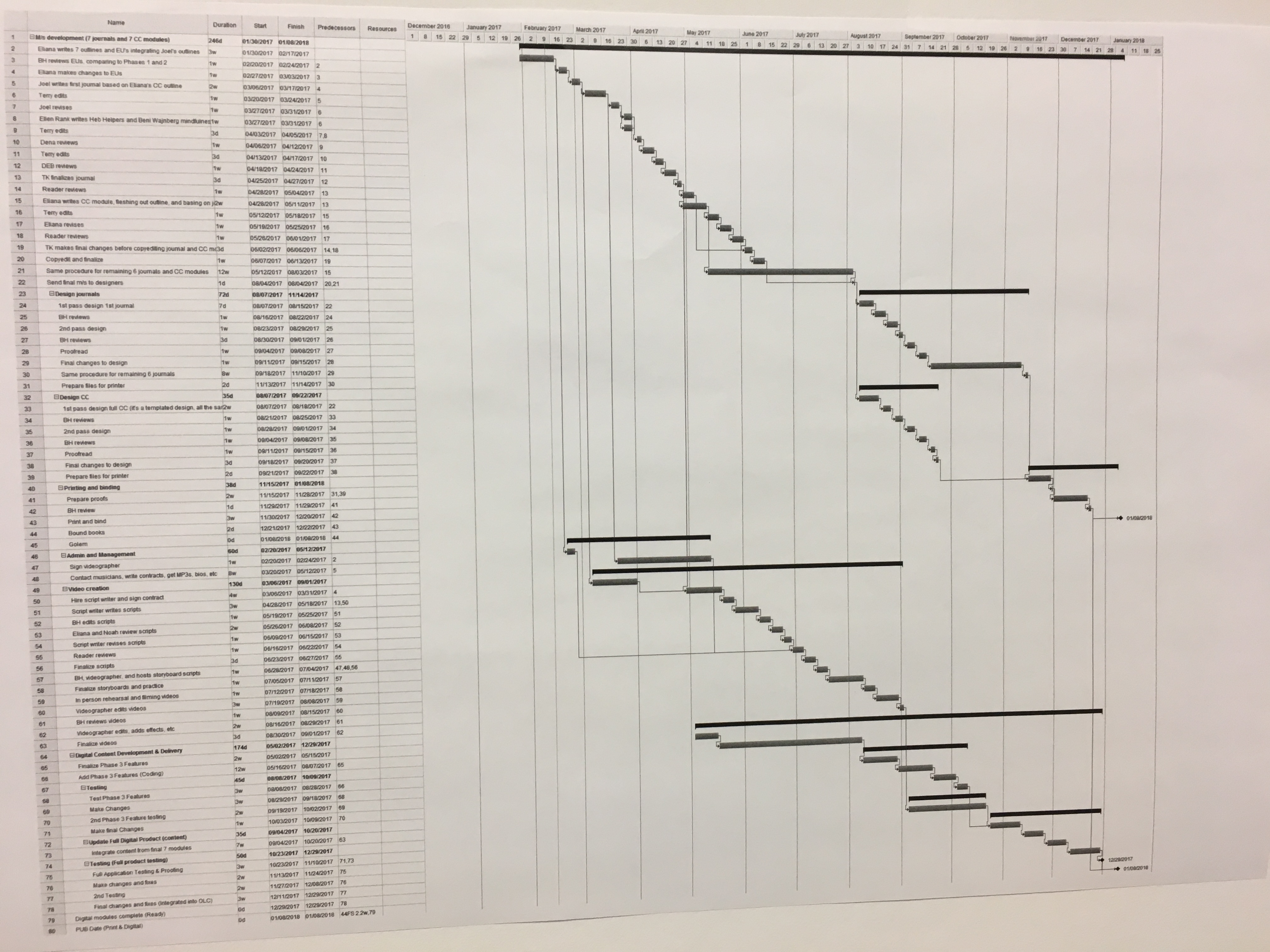 I've been immersed in the details of developing Hebrew in Harmony for the past five years: writing licensing agreements with 50 musicians, hiring scriptwriters and videographers for the videos, editing the student booklets, working with our Israeli graphic designer, testing the digital pieces, piloting the series, etc. Here's a picture of the Gantt chart.
Sometimes I could hardly see over the wall of detail to the real children using the program.
Which may account for the emotional reaction I had when watching Yael Rahamim—a master Hebrew teacher at United Synagogue of Hoboken, New Jersey—in action with her 5th grade class. Yael and Grace Gurman-Chan, the school's educational director, graciously invited me to observe a Hebrew in Harmony class.
It was so much fun watching. The kids were busy and engaged, there was a quiet hum of activity,Yael used multiple modalities (singing, listening, reading, moving, some modern Hebrew with actions) and different tech platforms (phones, tablets, laptop, projector and speakers). It was highly energizing—and quite moving—for me to see HiH used so richly and with such variety.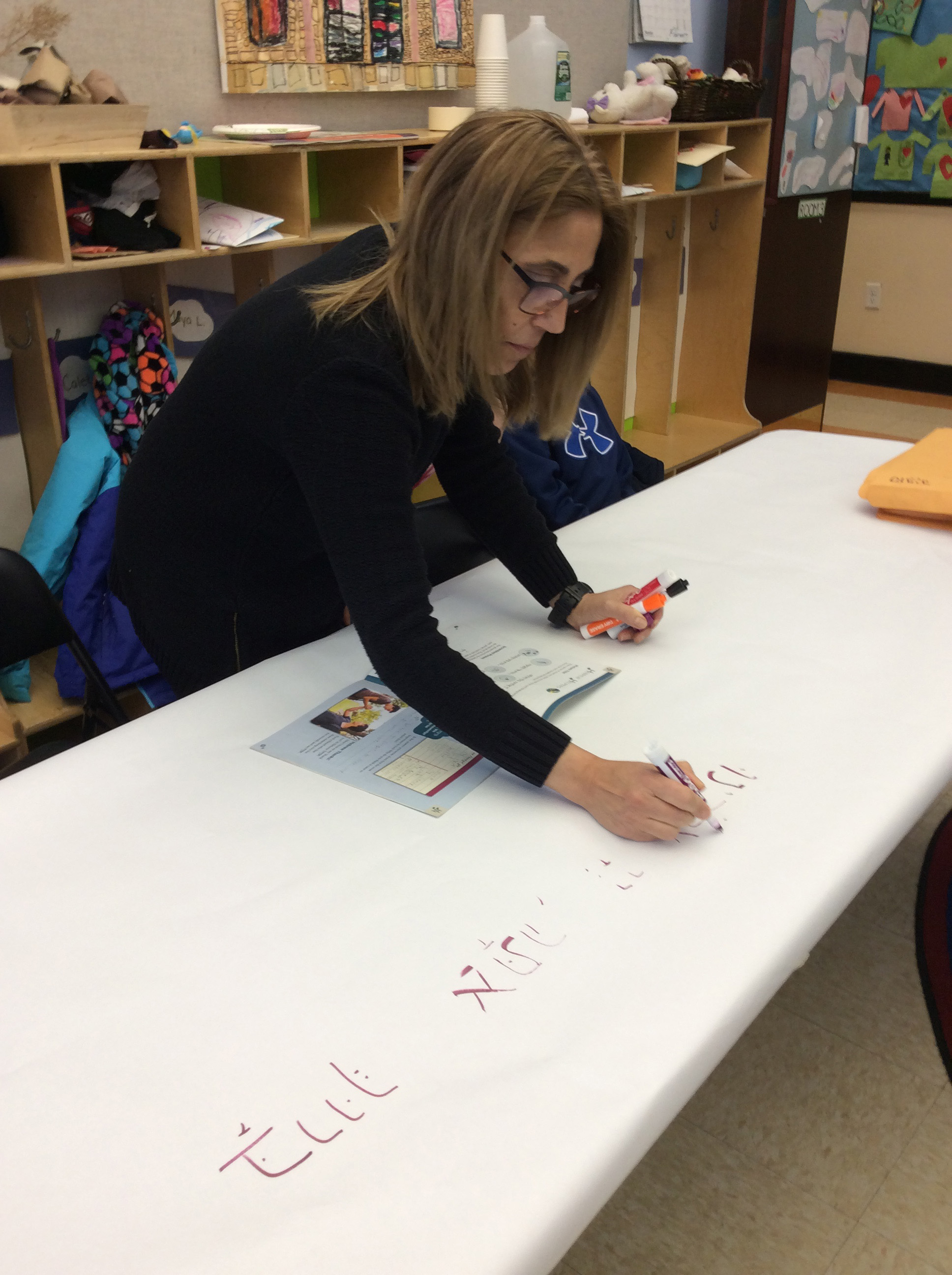 This is what I noticed:
Yael had prepared stations for the students with selections from prayers and blessings written on white paper "tablecloths." She likes the kids to see different Hebrew fonts including handwriting. It also helped guide the children to the table or area where they should sit.

The children store their journals in large brown envelopes for easy access. Some other schools keep the booklets in yellow Hebrew in Harmony pocket folders, and others punch holes in them to store in three-ring binders.

The class came together at three points: 1) to do a two-minute modern Hebrew activity in rhyme, having memorized words and accompanying actions, 2) to watch and sing along with Noah Aronson teaching the songs on the videos (the kids happily joined in), 3) to discuss the meaning of "hear" in the Sh'ma. For these group parts, they moved their chairs into a circle. In other places I've seen, children often work together as a whole throughout the lesson.

Teachers need to carefully plan their HiH lessons. Yael had. She reviewed the lessons in the Curriculum Core in advance, chose the most appealing activities, decided how much time to devote to each, made copies of song lyrics (from the CC), set up and tested the technology, and planned how to assess.

They have strong wifi in the building. This meant the students could easily listen to the music, play the online games, do the Hebrew reading, record themselves, and watch the videos. It made me think it's a right, not a privilege, for religious schools to have strong, reliable wifi—not just in the offices but in the learning spaces too.
I just kvelled over the feedback.

About the journals: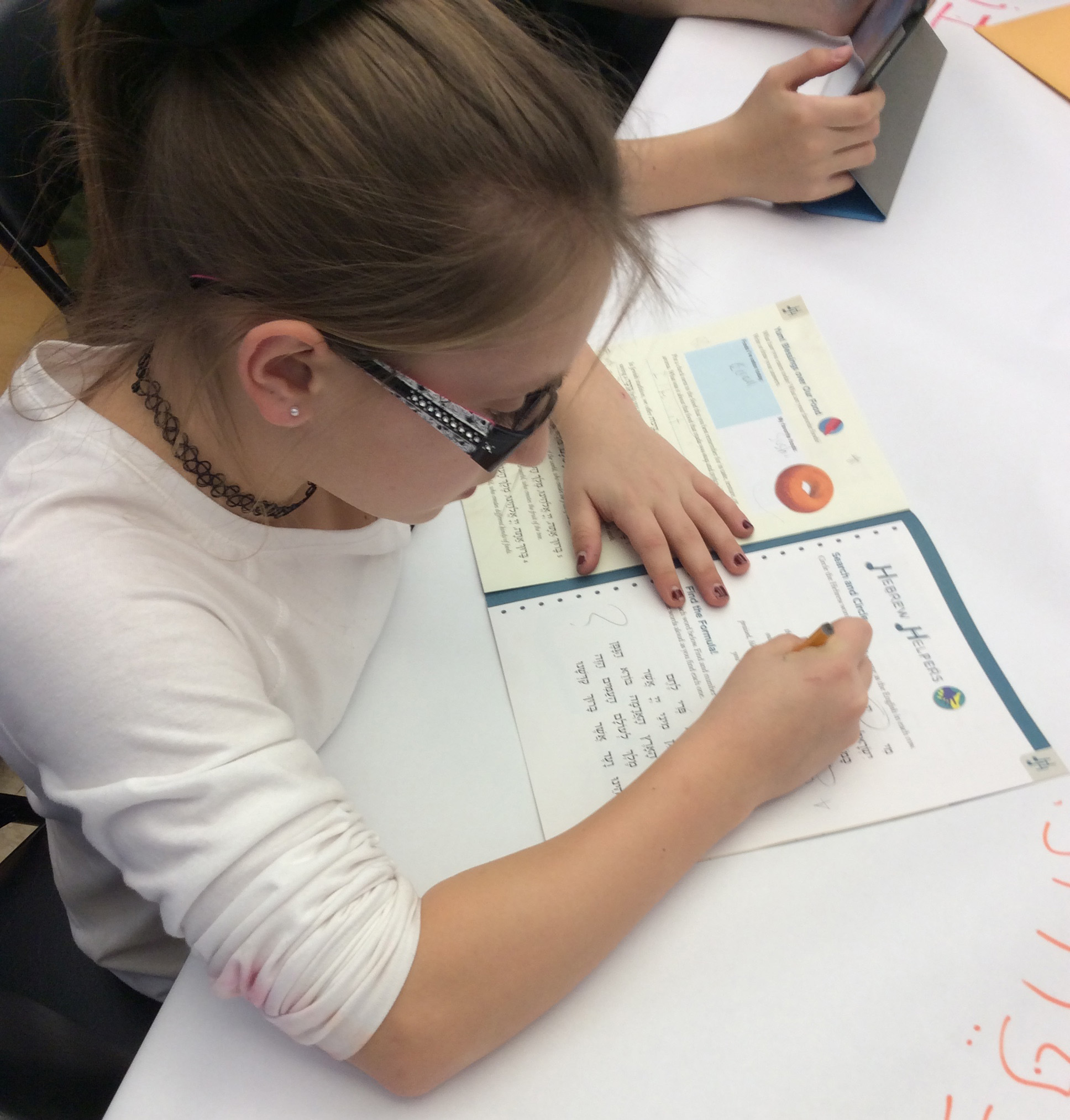 "I love those. It's fun when you get to draw. I like the open boxes where we can use our imagination." (Aly)
"I like it when it asks me how I feel." (Sammi)
"It can't glitch like technology." (I didn't catch the name)
"Of all the books I've ever had in Hebrew school, these are the best." (Micah)
About the digital:
"I really like it. It gives us many different ways to learn the prayers." (Sophia)
"It's a really cool way to learn Hebrew." (Sage)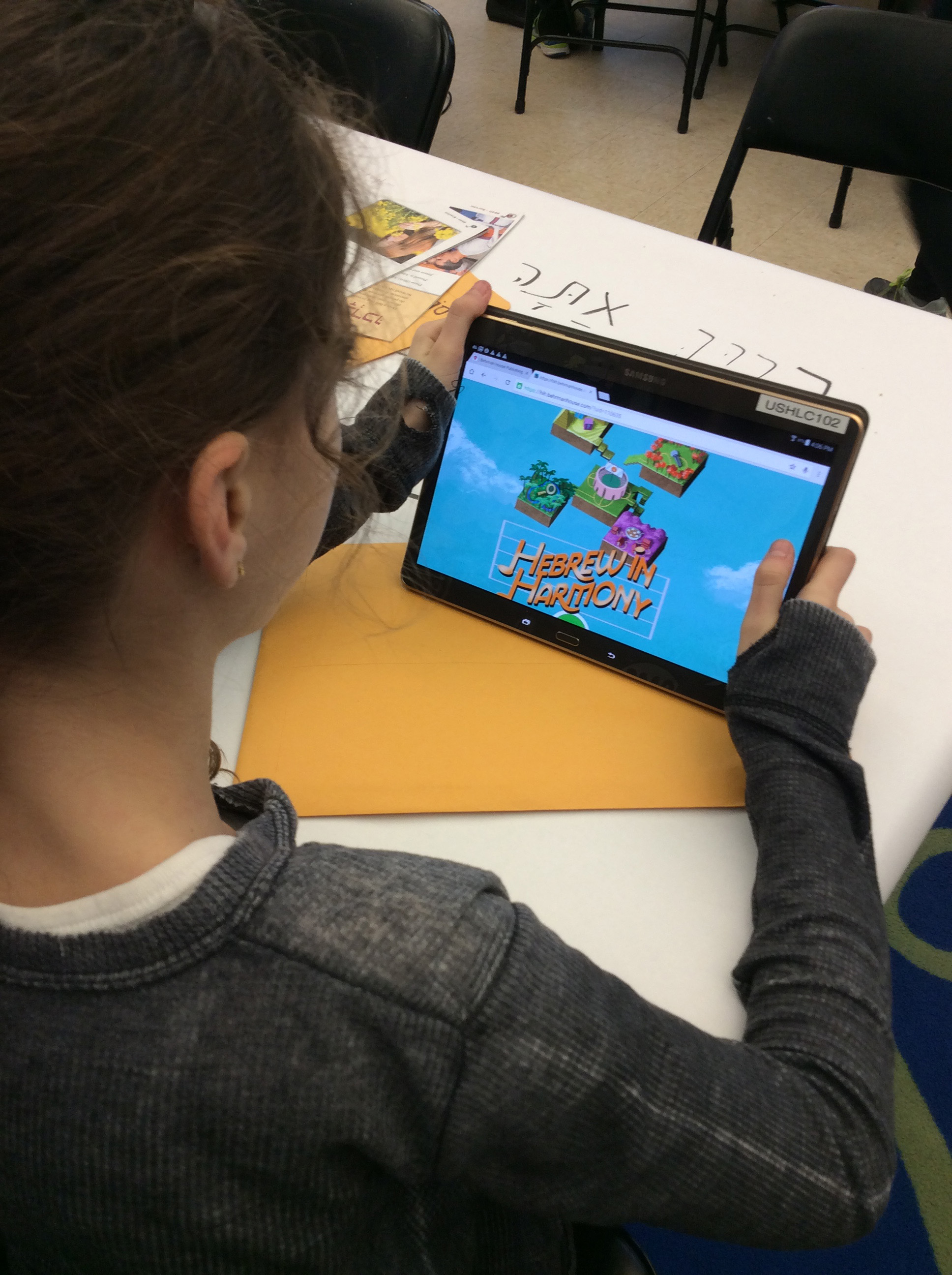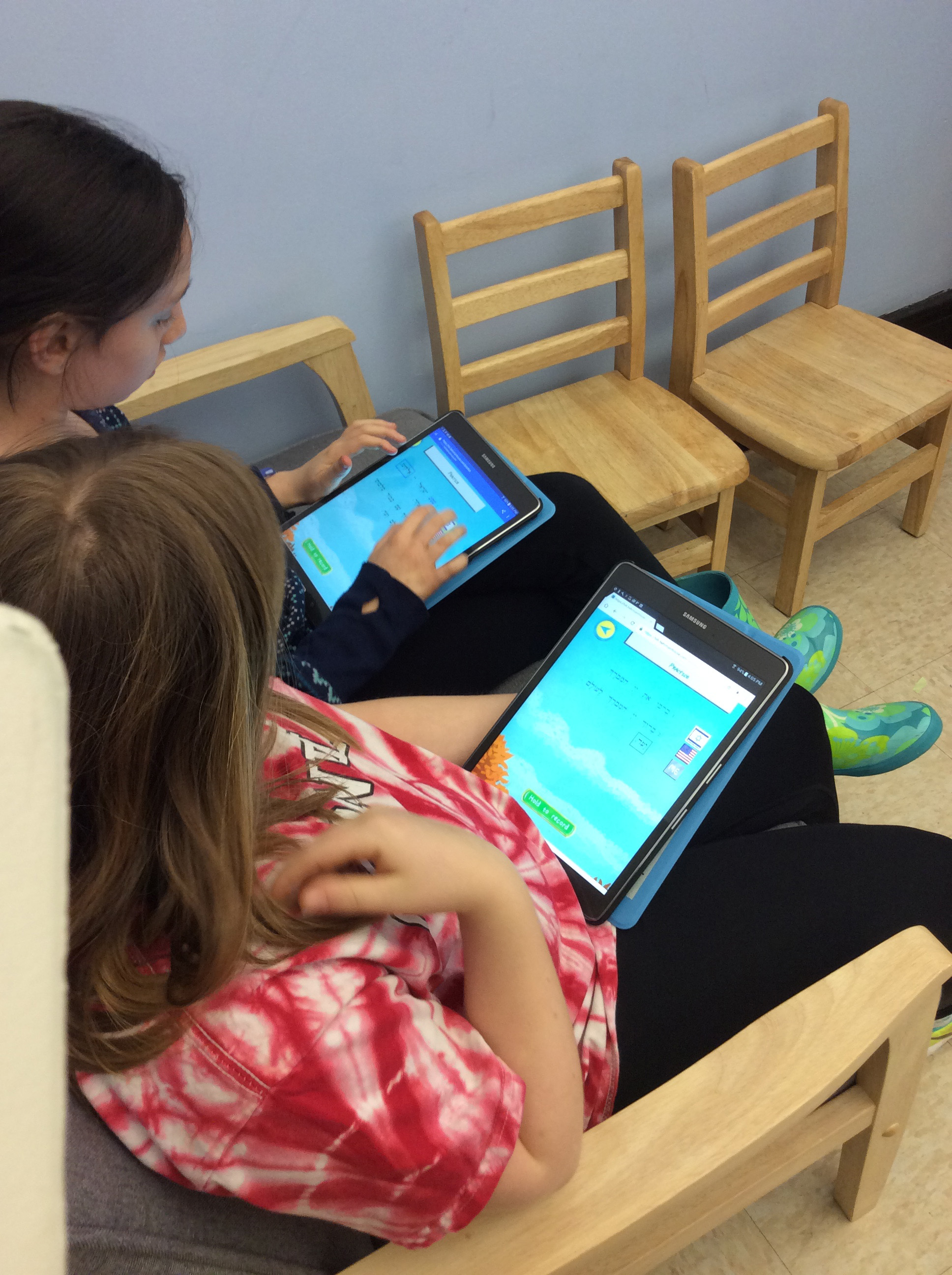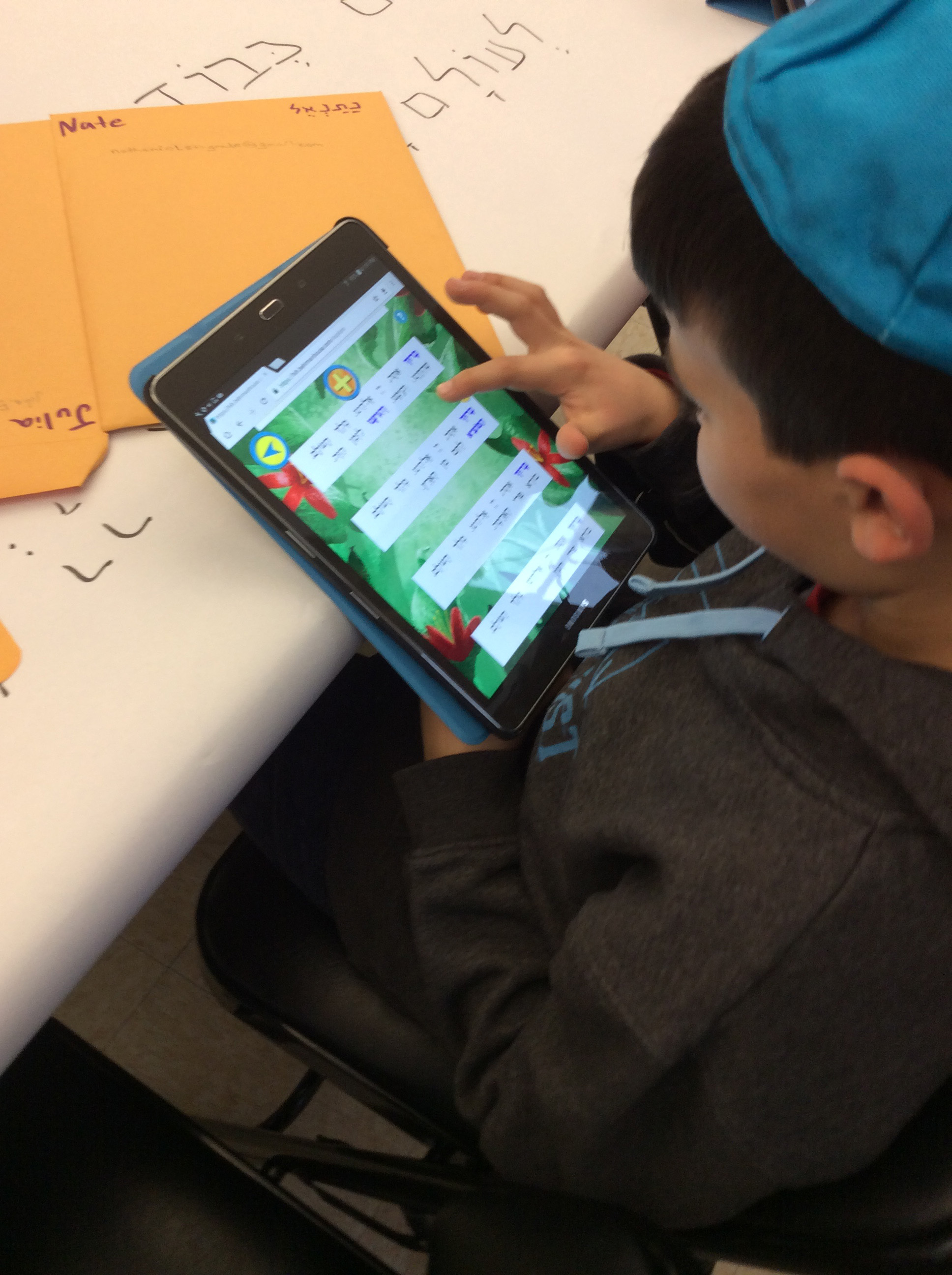 There have been challenges too:
Three children of the seventeen in the class have had difficulty logging in to the Online Learning Center with their user names and passwords. We've been working with them to reset their passwords and to ensure a smooth log-in.
I noticed that several students did not know where to enter the Online Learning Center and ended up in the shopping section of our web site. We are working on a redesign and new user interface for the OLC.

Several children said they want more—and different—Hebrew games. One child said: "I learn better and it's more fun with games. I want to go to a game first but not when it's always the same game." We are planning two more games in addition to the "Melody Game."
Fifteen prayer modules are available now for Hebrew in Harmony; the final seven are coming January 2018. New musicians, new videos, a new journal author (Dr. Joel M. Hoffman, we are excited to announce), new digital games, and, of course, new Curriculum Core lessons by our author and creative director, Eliana Light.
Looks like it will be another busy year.