A Few Mindful Minutes: Reclaiming Attention and Getting Going Again
Written by Vicki Weber, RJE, 16 of November, 2016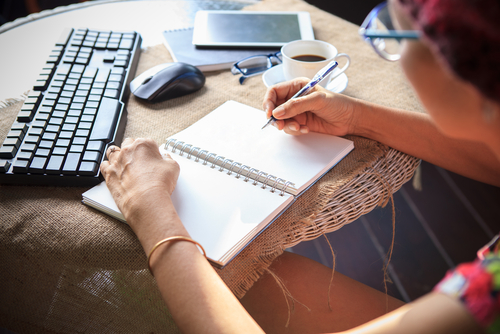 In conversation, in social media, in a dozen daily interactions I notice that many of us are having a tough time focusing right now. Yet daily life calls out for attention. We emerge as though from deep sleep, and begin again to answer emails, set meetings, rework plans for projects, for get-togethers both personal and professional. Perhaps we wonder how to respond to an inchoate calling to greater action. And if there are schools involved, suddenly there is the realization that just a discrete, and shockingly small, number of weeks remain until the end of the term.
How do we round up and provide for all the things buzzing in our heads? How do we sort ourselves out, set a direction, restart the engine and get going again on a new course? How do we identify a yearning and create an intention that will propel it forward?
A few months ago I stumbled across a short yet compelling practice that has begun to help me tame swirling thoughts, identify what's really on my mind, and bring the important into focus. And as an added benefit, it lets me doodle.
It has just a few simple steps.
1) Breathe: During that time after you are physically prepared for the day but have not yet begun any of the day's tasks, settle with a pen and paper or notebook and get yourself mentally ready by becoming present through a focus on your breathing. Take a full minute. Breathe in. Breathe out. Repeat.
2) List, draw, doodle: Thinking to the day or week ahead, jot down the first few things that come to mind. What's taking your attention? What's worrying you? What's exciting you?
3) Reflect: Think about what you put down and why. Then choose one thing from your page of doodles and create a short plan for getting something done about it now.
Time each step:
1) give yourself a minute to settle and a minute to breathe;
2) give yourself five minutes to list or doodle out your thoughts;
3) give yourself two minutes to reflect and make your plan.
A short yet active reflective period like this most mornings has been making a big difference in the way I approach my day and is helping me consider some larger things I want to undertake. This is more than a to do list. It's a clarifying reflection that helps me align my priorities with the way I spend my time. I keep a notebook just for this exercise, and once a week or so I like to review what I have written, to help me keep an eye on this alignment, to help me turn yearning into action.
You can read more detailed version of this practice here. http://www.inc.com/john-brandon/this-7-minute-morning-routine-will-change-your-work-life.html