Do We Need to Change the Paradigm in Jewish Education?
Written by Vicki Weber, RJE, 12 of June, 2017
Is Jewish education locked in a paradigm of crisis?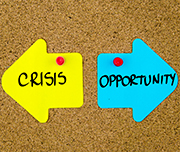 In Israel: The Ever-Dying People, Simon Rawidowitz claimed, "The world makes many images of Israel, but Israel makes only one image of itself: that of being constantly on the verge of ceasing to be, of disappearing . . . He who studies Jewish history will readily discover that there was hardly a generation in the Diaspora that did not consider itself the final link in Israel's chain. Each always saw before it the abyss ready to swallow it up."
In a recent talk with Jewish graduate students, Dr. Zohar Raviv, International VP of Education for Taglit-Birthright Israel, said that as educators we must move beyond this idea of the ever-dying people. He called upon us to "change the rhetoric of Jewish education from one of crisis to one of opportunity," to highlight the focal point of Jewish life as "a meaningful engagement with values and ideas." He challenged us to "change the paradigm from one of crisis, of responding to external factors, and instead build narratives that engage Jewish life from within."
As a Jewish educator immersed in the creation of courses and materials for today's learners and leaders, I was surprised to hear such a dark assessment of where Jewish education stands at this moment. The notion of operating from crisis mode is not one that resonates for me. The Jewish education I see from my personal perch is already one that is, and has been, deeply engaged in helping learners explore Jewish life from within.
Raviv calls for Jewish education that is a "thematic-based, values-driven experience," one that "elicits questions," and helps develop Jewish identity based on "meaning rather than ritual . . . on why rather than how."
Honestly, he could have been describing what we do at Behrman House.
I could go back in history to demonstrate our long-standing values approach to Jewish education (we've been around for 96 years after all). But better to focus on the courses we provide right now.
We want our children to understand not just how to pray, but why. And so, we created Making T'filah Meaningful.
We want our children to be able to discover and explore how Judaism is connected and relevant to their everyday lives. And so, we created Jewish Holidays, Jewish Values.
We want to excite curiosity in our children about their heritage, and help them learn how to ask important questions. And so, we created Jewish Values in Genesis and Jewish Values in Exodus.
We want to help children see what they can discover when they look at the world and their place in it through a Jewish lens. We want to help them explore how insights from Jewish texts, ideas, and practices can get them thinking critically about the modern dilemmas we all face. And so, we created Min Ha'aretz: Making Meaning from Our Food, and Our Place in the Universe: Judaism and the Environment.
Dr. Raviv is certainly right. We cannot nurture healthy Jewish bodies on a diet of tragedy. I grieve that there are still foundations, philanthropists, and possibly even educators in our community who feel crisis is the best motivator. They might learn excellent lessons from Vartan Gregorian's astonishing transformation of the New York Public Library though his relentless focus on opportunity.
They might also learn from us here at Behrman House, where we focus now--as we have for three generations--on the Jewish values from within that will sustain our children and our heritage.